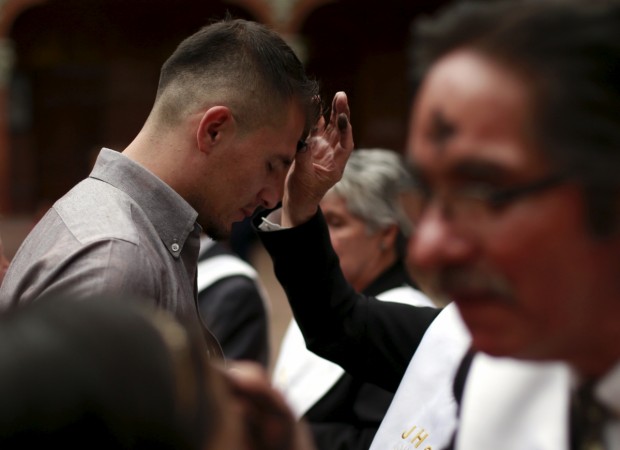 Millions of Christians across the world will be confused whether to celebrate Valentine's Day 2018 or not. Why? Well, people both young and old celebrate Valentine's Day on February 14 every year to show one's love and care for loved ones but it's going to be different this time around with Ash Wednesday falling on the same day.
Valentine's Day is a religious festival in strict terms, a day to mark the feast of St. Valentine, a saint of the Catholic Church who was martyred. But today, it is celebrated across the globe irrespective of religion and region as a festival of love.
People use the occasion to express their love to those close to them in various ways. Some may choose to make their loved ones feel special on the day by gifting them with their favorite book, gadget or other items while others may opt to give a treat, perhaps a delicious meal or a romantic dinner.
But if you are a Catholic, or belong to other Christian denominations like Anglicans, Lutherans, Methodists, and Presbyterians that observe Ash Wednesday, you will at least think twice before celebrating Valentine's Day 2018 because you are supposed to fast and do penance on the day.
Ash Wednesday marks the beginning of Lent, which is observed for 40 days (till Holy Thursday) symbolizing the time (40 days and nights) Jesus Christ spent in the desert before he was crucified. The Catholic Church and a few other Christian denominations observe the occasion in fasting, abstinence, and prayer. Priest marks the forehead of the churchgoers with ash in the shape of a cross as he says "Remember, you are dust, and unto dust you shall return. Turn away from sin and be faithful to the Gospel. Repent, and hear the good news."
The faithful are not supposed to take their favorite food on Ash Wednesday and Fridays leading up to Easter Sunday. They are supposed to fast, pray and shun meat these days.
Ironically, it's just the opposite of Valentine's Day spirit – where you are expected to have a good time with your loved ones.
So, many will be confused either to celebrate Valentine's Day or Ash Wednesday – two completely contrasting occasions, one associated with feasting and the other with fasting.