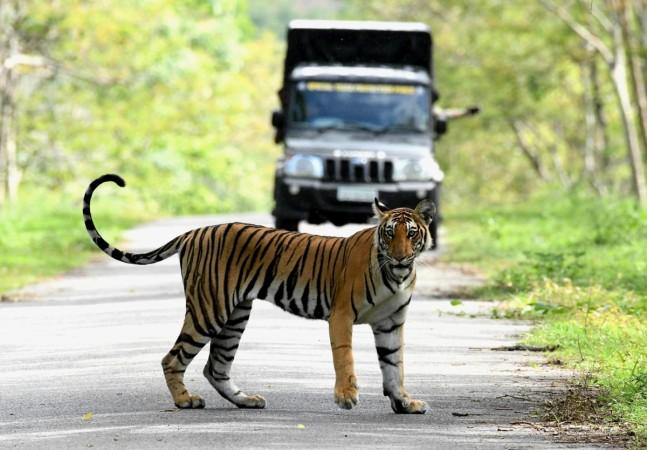 US-based Wildlife Conservation Society's (WCS) Wild Seve programme has filed its 10,000th claim since the launch of the programme in July 2015, it was announced on Tuesday.
The Wild Seve programme helps farmers living around Karnataka's two national parks recoup crops or livestock losses caused by wildlife.
The 10,000th claim involved a livestock predation incident in Shivapura village close to Bandipur. On the night of July 8, a farmer heard noises from his livestock shed. He immediately called his neighbours who saw a black leopard holding the calf by its neck. They made a loud noise to scare the big cat away, which worked since the leopard dropped the calf and ran away. The calf however died.
Since the programme was launched three years ago, 5,685 families have received over Rs 1.6 crore rupees in payments from the Karnataka government at the instance of Wild Seve.
Of the 10,000 cases, more than 9,400 involved crop and property damage. Over 500 cases were of livestock depredation, and nearly 40 related to human injury and death.
The response time has improved from 64 percent to 98 percent within the first 24 hours of the incident occurring. Payment processing time has decreased from 248 to 60 days, WCS said.
Wild Seve uses mobile technology linked to a portal and a field-based response team so that claims can be quickly processed. It currently services more than half a million people living in 600 settlements around wildlife-rich protected areas in India's Western Ghats region.
Associate conservation scientist and founder of the project, which is supported by Oracle and implemented by the Centre for Wildlife Studies, Krithi Karanth said Wild Seve started off as a conflict response and compensation claim assistance project.
Today, our committed field staff have built a great rapport in the community and generated goodwill towards wildlife."

"Wild Seve continues to evolve and expand the services provided to people living adjacent to WCS flagship wild places Bandipur and Nagarahole. This project serves as a globally scalable example for addressing human-wildlife conflict."
The programme has allowed WCS conservationists to identify places where crop damage is most likely to occur, and then subsequently develop mitigation measures, including assistance in building livestock protection sheds to keep predators out.
This potentially saves wildlife from being slaughtered in retribution killings, besides protecting farmers against lethal encounters with wild animals in Bandipur and Nagarahole National Park, the WCS said in a statement.