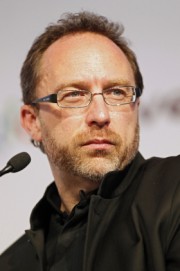 Jimmy Wales, co-founder of the free online encyclopedia, Wikipedia, said on Friday that future of Wikipedia is in India.
Addressing a large crowd in Mumbai University during the opening day of the three-day Wiki Conference India, Wales said that he was incredibly lucky to be in India, not just because he almost didn't make it, but also because Wikipedia was looking at great opportunities in Indian languages.
Speaking about why the conference was held in India this year, Wales said that it was due to the prospect of enormous growth that Indian languages offered. However, he also mentioned that English language has nearly 3 million entries on the Wikipedia managed by around 35,000 editors, whereas Hindi has only around 50 editors.
He also mentioned that the problem of keyboards and software in developing the Wikipedia in Indian languages could be addressed by the Wikimedia Foundation, the Trust that oversees the encyclopedia's activities.
Indian languages Wikipedia is at least 10 years behind English Wikipedia, but it has a great potential to grow, he added.
Speaking about the prospect of Wikipedia and Wikimedia in India at the conference, Professor Krishna Kumar, who is working on Indian languages in the U.K., said that the future of Wikipedia and Wikimedia was bright. "It has done in a decade what the Alexandria library could not do in 2,000 years. Wikipedia will do a service to India where language problems have multiplied," he added.
Meanwhile, Bharatiya Janata Yuva Morcha staged a protest at the venue of Wiki Conference, with the protesters claiming that the Wikipedia map of India, Jammu and Kashmir and Arunachal Pradesh were shown in different colors, indicating that they were not a part of India.