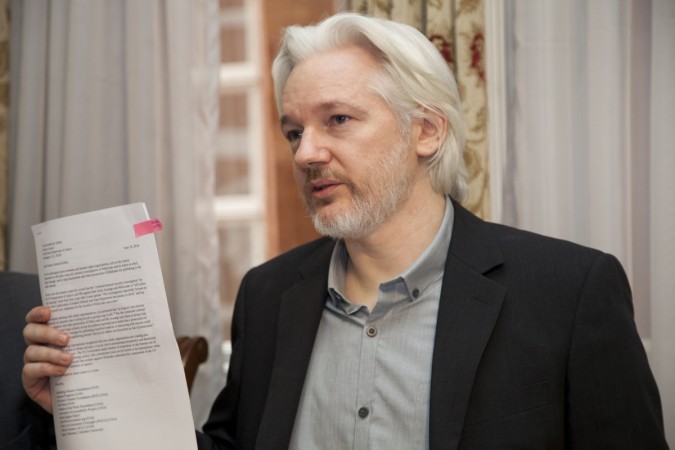 Swedish prosecutors have been allowed to question Wikileaks founder Julian Assange inside the embassy of Ecuador in London. He is wanted for questioning over a rape allegation, which he denies. Ecuador had granted asylum to the 45-year-old Australian in 2012. But as soon as he sets foot outside the building, Britain will deport him to Sweden.
Assange has been living inside the embassy for more than four years. No date has been announced for the questioning, but a statement by Ecuador said that it will be allowed "in the coming weeks." Ecuador also says that an agreement signed with Sweden on "mutual legal assistance in criminal matters" last December will provide the legal framework for the questioning.
Assange had sought refuge in the Ecuadorian embassy after exhausting all his legal options in Britain against extradition to Sweden. Assange also fears of being sent to the U.S. from Sweden and facing charges of espionage.
WikiLeaks has published confidential information that casts a compromising look of the U.S. and many other governments. Although as opposed to other Wikileaks whistleblowers like exiled Edward Snowden and jailed Chelsea Manning, there is no open indictment against Assange in Washington. He and his organisation are the subject of an investigation.
Assange's previous requests to be questioned inside the embassy were rejected as prosecutors had insisted that he be interviewed in Sweden. On Wednesday, he had also appealed against a Stockholm district court's decision to maintain a European arrest warrant over the rape allegations.
"We have appealed the decision to keep him remanded in custody in absentia," Tomas Olsson, Assange's attorney was quoted saying by AFP. His lawyers in Sweden had also recently made a new appeal to drop the arrest warrant against him, citing the "passivity" of the Swedish prosecutor in trying to question him.
A UN Working Group on Arbitrary Detention on February 5 ruled in a non-binding decision that Assange's confinement in the Ecuadoran embassy amounted to arbitrary detention and asked for his release along with adequate compensation for violation of his rights. Britain and Sweden summarily rejected the decision.
Assange and WikiLeaks had also recently attracted attention after the distribution of hacked emails from the Democratic National Committee that created a furor after it was suggested that the Bernie campaign was sabotaged through a propaganda war run by Democrats.
Debbie Wasserman Schultz announced her resignation in July after pressure mounted on her due to the disclosures by Wikileaks.