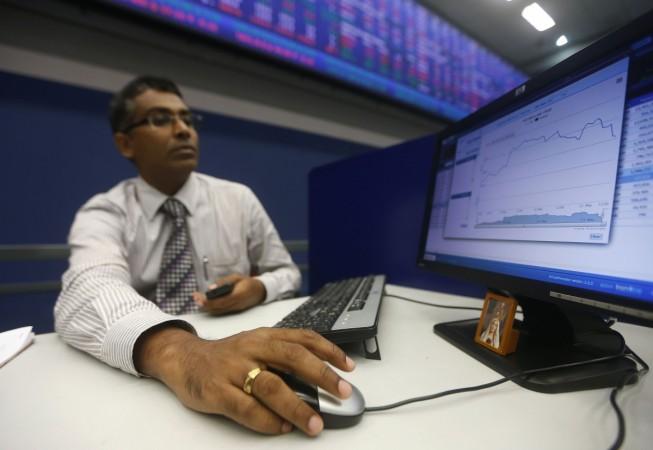 The Indian stock market witnessed heavy losses in the past two weeks, even though equity markets across the globe fared well, particularly the US markets, which shot up to record levels.
Weighed down by poor earnings declared by major IT companies, the BSE Sensex lost around 900 points this week alone, closing at 27,437.94 points. Overall, the index has lost 2,586 points from its record high of 30,024.74 hit on 4 March, 2015.
Missing analysts' estimates for the third straight quarter, dollar-denominated revenues of India's largest software firm Tata Consultancy Services (TCS) declined by 0.8 percent to $3,900 million in the January-March quarter, while in rupee terms it fell by 1.1 per cent to ₹24,219.8 crore.
Infosys, the second largest IT firm, also missed street estimates with its profit declining by 4.7 percent sequentially, to ₹3,097 crore in the January-March quarter.
"The biggest problem is the fact that earnings are just not increasing at this point of time and we are seeing downgrades even now and that is what we are seeing over the last three-four quarters," Sanjeev Prasad, senior executive director, Kotak Institutional Equities, told The Ecomomic Times.
Concerns over below-normal monsoon and uncertainty over Minimum Alternate Tax (MAT) for foreign investors are other factors that led to a sharp sell-off in the stocks.
The government has served notices to foreign investors asking them to pay MAT on long-term capital gains from equities earned previously.
India is likely to witness below-normal monsoon this year too as there is a high chance of the occurrence of El Nino, which could lead to poor rainfall during the June to September period.
A second consecutive year of weak monsoon will severely damage agricultural production, resulting in a spike in food inflation.
Analysts expect the sell-off in the equity markets to continue in the short-term on the back of worries over the above-mentioned factors. Also, foreign investors remain sceptical about fast execution of reforms promised by the Narendra Modi government.
"While investors remain positive over India's long term prospects and an energetic government focused on reforms, the translation of the positive macro to an on-the-ground improvement in the economy or earnings, has been far slower than anticipated," said Capital Economics in a recent note.
Beside, global factors such as uncertainty over the US Fed rate hike, Greece debt woes, and slowdown in China have led the benchmark indices to plunge to levels last seen in January 2015.
Analysts now see India equity market as one of the worst performers globally, taking into account losses witnessed in the past three months.
In contrast, other major global stock markets, mainly the US stocks continue to remain upbeat, as the Nasdaq composite and Standard & Poor's 500 index soared to record highs.
The Chinese equities continue to climb higher, supported by expectations of another stimulus by the government to boost its sagging economy.
The European markets also fared well as investors found signs of improvement in eurozone economy on the back of the quantitative easing programme announced by the European Central Bank (ECB).