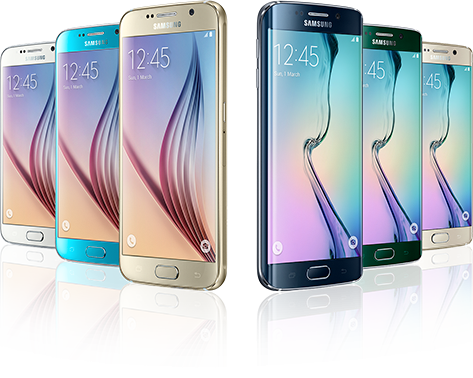 Samsung has finally presented its new Galaxy S6 handset to the world. The latest Galaxy flagship comes at a time when the smartphone business is evolving.
The new Samsung Galaxy S6, alongside the Galaxy S6 Edge, was unveiled on Sunday at the Mobile World Congress in Barcelona, Spain. And this time round, the company also seems to be focusing on the designing aspect, apart from the specs. The two handsets have a metal frame and a glass body, both at the front and the back.
Samsung Galaxy S6 will directly compete against its nearest rival Apple, which recently released its iPhone 6 and iPhone 6 Plus. Taking a look at the designing of Galaxy S6 and comparing it with iPhone 6, it needs to be mentioned that the two devices look quite similar.
However, Samsung has maintained an amazing slimness quotient. As far as the numbers are concerned, Samsung's Galaxy S6 is 6.8 mm thin and weighs 138g. But that's not what affects (or might affect) the handset at final release.
While the Galaxy S6 has arrived with a number of improvements, there are a few features that Samsung has sacrificed for the sake of good designing. However, the most crucial is that memory can't be extended using a microSD card. If you have used Samsung smartphones in the past, this will come as something new to most. After all, most of the Samsung phones out there have offered microSD support until now.
As revealed by Samsung at its MWC 2015 presentation, the Galaxy S6 will be available in 32GB, 64GB and 128GB storage variants. This is where Samsung directly takes the Apple route to selling smartphones to the masses. Galaxy S6 marks the arrival of Samsung smartphones without microSD card slot.
Sure, there are models with up to 128GB of integrated storage, and that's more than enough for most of us. However, that still leaves us with a feeling that we are missing out on something essential. And moreover, internal memory doesn't offer the same suppleness as a microSD card slot. Apart from this, the battery isn't user-replaceable as well.
Its latest predecessor, Galaxy S5, also came with two different memory variant models – 16GB and 32GB. However, it also had the option to increase the memory further via 128GB microSD support. That gave users an added sense of space.
Keeping in mind the Indian market and audience, many may not opt for the handset. Also, we are somewhat sure that very few will (or, will be able to) invest on the 64GB variant of the handset, let alone the pricier 128GB variant.
The next big thing that will come to the users' minds, after the designing bit, is "what else do I get for my money." And the lack of an external memory slot will surely leave a few potential users disappointed. But the latest change, as we mentioned earlier, has been made to support the handset's slim design factor.
As of now, the market is filled with handsets that offer more in terms of space at the least price possible. However, comparing Galaxy S6 with its rivals in every other category may seem a bit harsh. But when purely considering internal space, Samsung might face problem in attracting customers.
Will this new Apple-styled smartphone sales technique help out Samsung? Or should it at least offer a microSD slot for greater memory increase in the future? Let us know.