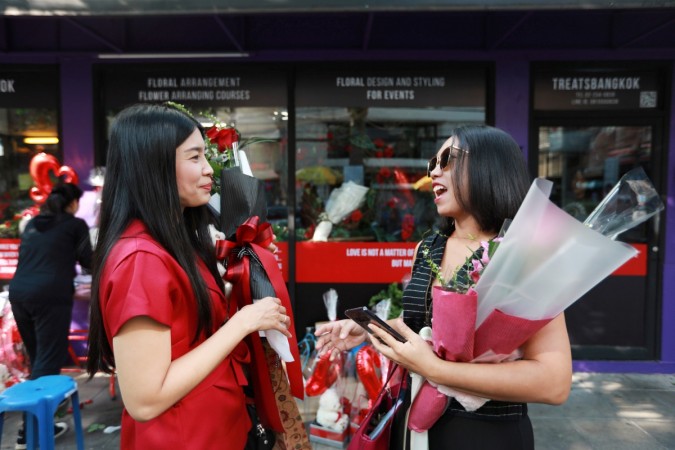 "I will not celebrate Valentine's Day this year as it clashes with Ash Wednesday. I have told my husband that I would go to church and pray instead," said Lucy, a 29-year-old Catholic.
There can be millions of Lucys across the globe as Catholics and several other Christian denominations like Lutherans, Anglicans, Methodists and Presbyterians observe Ash Wednesday in penance, fasting and prayer.
Valentine's Day and Ash Wednesday have clashed after more than seven decades. The confluence is rare as the last time it happened was in 1945.
Valentine's Day may have its root in Christianity as it marks the feast of St Valentine of the Catholic Church, but it has turned into a global festival over the years with people cutting across religions and regions to express their love to their special ones on the occasion.
Millions of people will celebrate Valentine's Day 2018 with their loved ones this time as well, but many Christians will be in a dilemma as Ash Wednesday falls on the same day this year.
Bishop Richard Malone of Buffalo, New York, has made it clear to church members that they couldn't celebrate Valentine's Day on Ash Wednesday.
"Ash Wednesday marks the beginning of the Lenten season, which is a solemn time of prayer and penance for the Catholic Church. Ash Wednesday and Good Friday are the only two days of the year on which fasting and abstinence are required. Due to the importance of Ash Wednesday in the lives of all Catholics - and even many of our non-Catholic brothers and sisters - a dispensation will not be granted," he said in a statement.
He, however, suggested that people could celebrate Valentine's Day a day early (February 13), which happens to be Mardi Gras, or on another non-penitential day. He also asked the parents to "help their children understand the significance of Ash Wednesday and why it supersedes the celebration of St Valentine's Day in the life of a Catholic."
The Archdiocese of Chicago has also said in a statement that there wouldn't be dispensation from the obligation of fast and abstinence.
"In view of the significance of Ash Wednesday the obligation of fast and abstinence must naturally be the priority in the Catholic community. Valentine's Day can appropriately be celebrated the Tuesday before Ash Wednesday which also happens to be Mardi Gras, a traditionally festive time before beginning our Lenten observance," said the Archdiocese of Chicago.
Many, especially Catholics, may not celebrate Valentine's Day this year due to the clash with Ash Wednesday, but that won't stop the rest from taking part in the festival of love.
Lent begins with Ash Wednesday. It is observed for 40 days, in memory of the number of days Jesus Christ spent in the desert under severe temptation from Satan ahead of his crucifixion on Good Friday.
Interestingly, this year's Easter Sunday, which marks the end of Lent and commemorates the resurrection of Jesus Christ, falls on April Fool's Day (April 1), but it won't affect the festivities as both days are associated with celebrations.