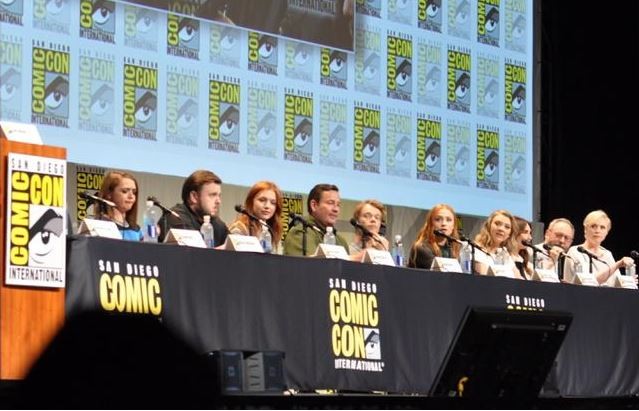 "Game of Thrones", "The Walking Dead" and "Lucasfilm" were among the most-awaited panels at the San Diego Comic-Con on Friday (10 July). And undoubtedly, GoT had the maximum number of devoted fans in attendance at the 6,500- seat Hall H.
While fans eagerly waited for answers to many unanswered theories after the Season 5 finale, the "Game of Thrones" panel at the event remained cautious and unrevealing.
Unlike every year, the GoT panel this time was attended by a different cast team, with many popular faces from the show missing at the Comic-Con's panel.
Author George RR Martin and creators DB Weiss and David Benioff along with actors Kit Harington, Peter Dinklage, Lena Headey, Emilia Clarke, and Nikolaj Coster-Waldau were among those who gave it a miss.
But actors Maisie Williams, Natalie Dormer, Alfie Allen, and Sophie Turner along with Conleth Hill, John Bradley, Hannah Murray, Gwendoline Christie, Liam Cunningham, and Carice Van Houten, filled in for their absence.
From the show's creative end, the cast was joined by executive producer Carolyn Strauss and director David Nutter. Although it looked like a full-fledged panel, they gave out nothing about the upcoming season.
Just one question was finally answered: Stannis Baratheon is dead.
But when fans wanted to know about Jon Snow, they got nothing from the panel. They will now have to continue believing that the answer is "maybe".
So many fan questions and expectations — was this the reason why the big names and faces from the show chose to remain absent at Comic-Con 2015? Maybe yes, maybe no.
But it looks like the panel did a good job of keeping details sealed. The actors did have an excuse for it. All the cast members had one convincing reason that they still haven't seen or read the script for the upcoming season yet and that they know nothing about the plot.
Meanwhile, San Diego Comic-Con attendees did get lucky when they got to watch the first-ever cast audition footage of "Game of Thrones". The 90-minute clip shows actors reading out lines for their parts in the ever popular HBO fantasy series.
In spite of zero make-up, no swords or costumes, you can still recognise your favourite character in the audition reel. In the video, you can see Gwendoline Christie (Brienne of Tarth), Pedro Pascal (Oberyn), Nathalie Emmanuel(Missandei), Rose Leslie (Ygritte), Michiel Huisman, (Daario), Natalie Dormer (Margery), Liam Cunningham (Davos) and Carice Van Houten (Melisandre), among others, reading out those popular lines in their most unglamourous avatars.
Well, no matter what "something special" they experienced at the San Diego Comic-Con, "Game of Thrones" fans will never have enough of this fantasy drama.