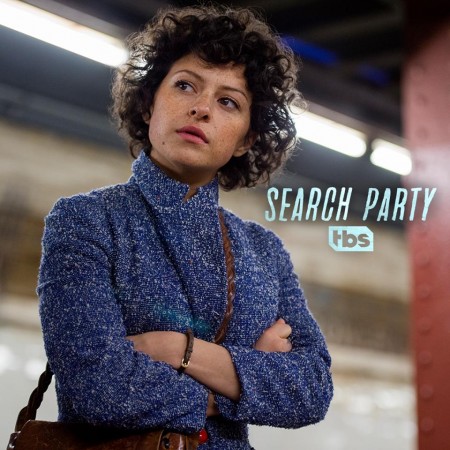 One of TBS's most awaited satirical mystery shows, Search Party, premiered on television recently. Starring Arrested Development's Alia Shawkat, the story revolves around four 20-somethings whose hunt get down to searching a girl from a college who they barely knew. The show comes from Fort Tilden's Sarah-Violet Bliss and Charles Rogers, and Michael Showalter oversaw the production of the pilot.
The trailer introduced viewers to the four friends, with Shawkat donning the role of Dory. And threw light on the numerous journeys the four friends are about to take in the season. With the premier of the first episode, titled The Mysterious Disappearance of the Girl No One Knew, starts off showing the characters set in Brooklyn.
Through the first episode, viewers are introduced to Dory, a directionless woman who is stuck in a job as an assistant of a rich housewife. Through a missing poster on a post, she finds out that a friend from her college goes missing. Dory is convinced that the friend is not dead and thus shifts her entire focus on finding the woman.
She teams up with her friends Elliott (played by John Early), a philanthropist, and Portia (played Meredith Hagner), an actress, to help her in the investigation. The episode further reveals that the missing college mate and Dory were never really friends. They barely knew each other. But through this incident, Dory finds a path to introspection. The half-hour episode sees Dory and her friends short listing on a suspect and uncovering clues.
The makers have managed to put together a satire that not just highlights the lifestyle of the millennial, but cleverly mocks their daily routine. The story-telling, revolved around Tweeting, Instagramming and Facebooking, is extremely cringing yet hilarious. The dialogues which are written in passive-aggressive format see the characters mocking each other and yet highlights that mockery isn't something that affects their friendship. Through the season, viewers will uncover numerous clues with Dory and solving the mystery of the missing friend.
To garner more viewers, TBS has lined up the show for online streaming, available on their official website. All 10 episodes of Search Party's first season are currently available on TBS.com or on demand. On the occasion of Thanksgivings, the channel has decided to air two episodes a day on television through the Thanksgiving week for viewers to enjoy.