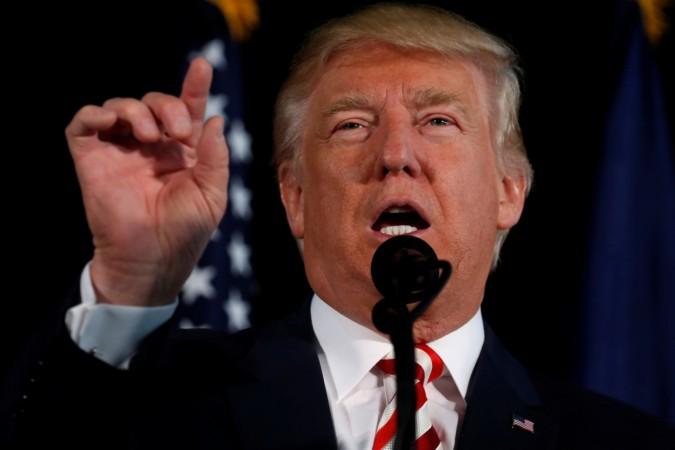 There are those who like but there are those who hate him as well. Donald Trump has found many haters among Hollywood for his sexist and racist remarks. Here's a look at what some of them said about him.
Helen Mirren
At a luncheon for her film Eye in the Sky in New York, Dame Helen Mirren cut Donald Trump to size. According to variety.com, the Oscar-winning actor told the crowd,, "I think it's dinosaurs. I think they're dying out, honestly. I think there are a few old dinosaurs left and I think Trump is one of them." The actor went on to ridicule him saying he had an "enormous body, small head" and "dinosaur-y hands".
John Oliver
The comedian and Last Week Tonight show host has shown that he has no love for Trump. On his show recently, he stated Donald Trump was "one unearthed '90s-era Teen People interview away from being on a sex offender registry." Speaking about the Republican nominee he went on to add, "It calls to mind both Frankenstein's monster and a rabid dog."
George Clooney
The actor-director-producer has stated to media that he is a Hillary Clinton supporter. And as for Trump, in an interview with The Guardian earlier this year, he said, "He's just an opportunist. Now he's a fascist; a xenophobic fascist." Later at the Cannes Festival press conference Clooney reiterated, "There's not going to be a President Donald Trump. Fear is not going to drive our country. We're not afraid of Muslims or immigrants or women. We're not going to be afraid of anything.
Eva Longoria
Actress and producer Eva Longoria didn't mince words when it came to her opinion on Trump. At a rally for Hillary Clinton this year in July, Longoria said, "When Donald Trump calls us criminals, and rapists, he's insulting American families. My father is not a criminal or rapist. In fact, he's a United States veteran."
Miley Cyrus
The Wrecking Ball singer may be just 23 years old but she definitely knows her politics. Miley Cyrus had tweeted out that if Trump were to ever become President she would move out of the country. When Trump made sexist comments she again posted, "Trump can't stop won't stop saying stupid a** sexist s***!!!! Comparing two women! Are you f****** kidding! We will not allow you to destroy everything we have overcome as women! I feel as though we are stronger than ever as a unit."
Katy Perry
Ever since the primaries, Katy Perry has rallied for Hillary Clinton. Early in October, when Clinton did not shake Trump's hand during the second presidential debate, the singer applauded it. Katy Perry is also one of the singers to take part in Hillary Clinton's 'Love Trumps Hate' series of concerts.
Matt Damon
At the New York Comic Con, Matt Damon stated, just got a text from my dad: 'Happy birthday, my boy. My present to you is a reminder that this time next month we'll be able to kiss Trump goodbye. Doubt you'll get a better one.'" The actor also showed his sense of humour when he added, "Although if he does get elected, we might have to worry Mexico will build a wall to keep him out."
Lady Gaga
Ever since allegations were made by women accusing Donald Trump of sexual assault, Lady Gaga has got more vocal against him. As a rape victim herself, she could identify with these women. She tweeted out, "Check out&trend #WhyWomenDontReport to have a better understanding. For me, it was like living it all over again. I applaud these women." In fact, she had slammed Trump for dismissing the leaked-tape lewd talk as 'locker room'.
Chelsea Handler
The 41-year-old comedian posted a topless picture of herself with the words 'Donald Trump Is A Butthole' on her back in August this year. In an interview with Variety, Chelsea Handler said of Trump,"It's great to have a person like that represent everything that's wrong in the world. "It's always a good thing to be able to look at somebody and be like, 'That's the worst thing that could happen. And I think we should keep him in the spotlight. Not as president, obviously, but, you know, as The Apprentice or whatever that show is called."