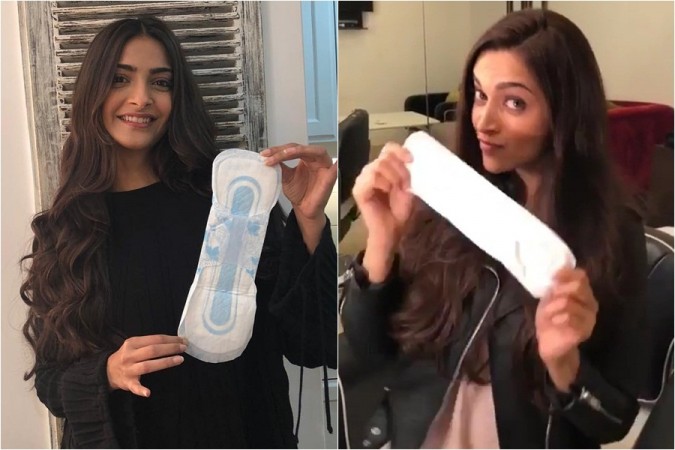 Sonam Kapoor has apparently deleted Deepika Padukone's PadMan Challenge Boomerang video post from her Instagram timeline which the former had reposted.
The incident came to light when angry fans started informing Deepika about Sonam's action by tagging her on her PadMan Challenge post which she took it up on February 3. In the post, Deepika was seen holding a sanitary napkin in her hands to extend her support for the film.
Soon, Deepika fans started trolling Sonam asking her why did she do such a thing when the Padmaavat actress had promoted her film.
"@sonamkapoor why the hell you are so jealous of our Queen.. Anyways she doesn't care coz Queen is Queen Forever," an upset fan questioned Sonam by commenting on Deepika's post.
"Deepika please UNFOLLOW SOOMAN THE LOSER," an angry fan wrote.
"@deepikapadukone You are a gem. @sonamkapoor chose to delete your post and spread hatred and you chose to support her film and spread love. You just prove your fans everytime why we all love you . More than your films it's your character which we love and try to emulate and that's why you are on the top leaving all the other actresses behind in the industry.And that is my your followers are almost double when compared to the former," an upset fan slammed Sonam.
"why Sonam?" another fan questioned the PadMan actress.
And when checked Sonam's Instagram posts, we were also not able to find Deepika's post in the PadMan actress' timeline.
This has given fodder once again to the rumours of their bitter cold war which goes back to the time when the Neerja actor's debut film Saawariya and clashed at box office in 2007 with Deepika's debut movie Om Shanti Om.
However, it looked as if the two divas had buried their hatchet when they shared a lovely banter on Twitter praising each other and wishing all the luck for their respective films namely Bajirao Mastani and Neerja in 2015.
But now it looks like there's more to the story than meets the eye.