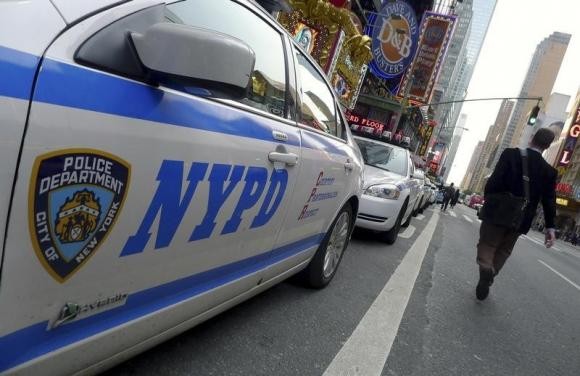 An article, which claimed that a New York Police Department (NYPD) officer killed a baby following an argument over breastfeeding with the infant's mother, is now found to have been a hoax.
But the fact that thousands believed the story, and created quite an uproar online about it, certainly says something about the declining reputation of the NYPD.
The hoax gained more than 100,000 shares and "likes" on Facebook, reports The Epoch Times.
However, many overlooked the fact that the report was published on satire news website National Report, which should not be taken seriously.
"In a continuation of the ongoing police scandals rocking the New York City Police Department, three-month old infant Layla Smith has been pronounced dead following an August sixth incident. Suzanne Smith, Layla's mother, had been sitting on a bench in Queens waiting for the bus when Layla began to insistently cry. Knowing that her baby was hungry Ms. Smith began to breastfeed her daughter," the hoax had claimed.
"Witnesses at the scene report that she was then approached by a NYPD Officer, later identified as Michael Fitzsimmons, who requested that she stop feeding the baby in public as it was 'indecent'. Ms. Smith refused to comply with the directive and told Officer Fitzsimmons that she wasn't doing anything illegal. Officer Fitzsimmons again insisted that she stop and threatened to arrest her for indecent exposure."
The story went on to claim that following the dispute, Fitzsimmons grabbed Suzanne by the collar of her shirt and violently yanked her backwards. The baby toppled out of mother's hands, banged her head and bled to death.
Twitter reacted with outrage over the incident
Absolutely horrific. What is the wrong with the #NYPD? http://t.co/Ore8kGwdx5

— Becky Cooper Nadis (@BACNadis) August 10, 2014
Keep it up, soon NYC will be bankrupt! - #NYPD Officer Kills #Baby Following Breastfeeding Argument | National Report http://t.co/FxqGnab9Ps — Duane Moody (@DuaneAMoody) August 10, 2014
Now the NYPD is murdering babies too http://t.co/7rQ3Y7RLDC #myNYPD

— GOD MODE: ACTIVATED (@GrimmFuture) August 9, 2014
NYPD been outta hand but this makes me sick http://t.co/pLCV13cpci — Jamaal (@JayGillenHaal) August 8, 2014
I regret to inform you that the NYPD has now moved on to infants. INFANTS. They really need to lay down on this one. http://t.co/MNxhB5Y1rR

— funkier than a ..... (@tweetmright) August 8, 2014
In the last few months, the New York's finest have been facing severe public scrutiny over a string of events, including the chokehold death of Eric Garner, an NYC resident.
The death was followed by the arrest of another local, who had filmed the New York City police officer using the chokehold on Garner.
In another incident, the New York Police Department is investigating a report that two emergency medical technicians had to intervene to stop four police officers, who were punching a shackled and handcuffed patient.