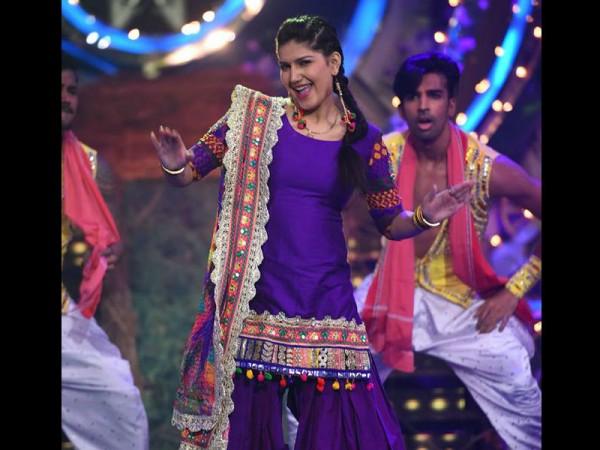 Two days after popular dancer and singer from Haryana, Sapna Choudhary, visited UPA chairperson Sonia Gandhi's office in New Delhi, the Bharatiya Janata Party mocked her by calling her 'thumke lagane wali'.
The saffron party also took a jibe at Congress by saying that the Rahul Gandhi-led-party "must decide what is more important to them, winning elections or 'thumkas' (dance moves)".
BJP lawmaker Ashwini Kumar Chopra made these comments after reports claimed that Choudhary has plans of joining Congress. It is also being speculated that Choudhary will campaign for the grand old party.
However, while interacting with the media, Choudhary had said that though she likes Congress and UPA chairperson Sonia Gandhi, she doesn't have plans to join any political party at the moment.
Later on Monday (June 25), the BJP MLA mocked Congress and said "Congress mein thumke lagane wale jo hain woh hi thumke lagayenge, yeh unko dekhna hai ki thumke lagane hain ya chunaav jeetna hai ("Congress has people already who dance, and that's enough. The party needs to prioritise what they want to do, whether they want to dance or win an election.)", reported ANI.
Reacting to Chopra's statement, Choudhary said that she does not seek an apology from him and is also 'okay' with him calling her a 'thumkewali' (dancer).
"Whatever a person speaks is based on his own ideology. You can't stop anybody from speaking. It's not my job to stop anyone. My job is to entertain. There are few names used to call us which we feel bad for. However, this does not really affect us. I don't want him to apologise as he is older than me. I respect him a lot. I did not feel anything about this," the dancer told ANI.
She also asserted that she does not intend to join politics.
"I am not joining any political party. I have no interest in the field. It would be meaningless to say anything on the remark (made by Chopra). He is a politician and should think before speaking. Still, if he has said something then also it does not affect me. I'm okay with that," Choudhary added.
Who is Sapna Choudhary?
The 27-year-old dancer was born in Haryana's Rohtak district. She had started dancing from the age of 12 and is one of the most demanded dancers in Haryana. She had participated in Bigg Boss 11 in 2017 and was last seen in a dance number in the film 'Veerey Ki Wedding'.
The dancer had also made headlines in 2016 for a controversial song, which reportedly insulted a caste.