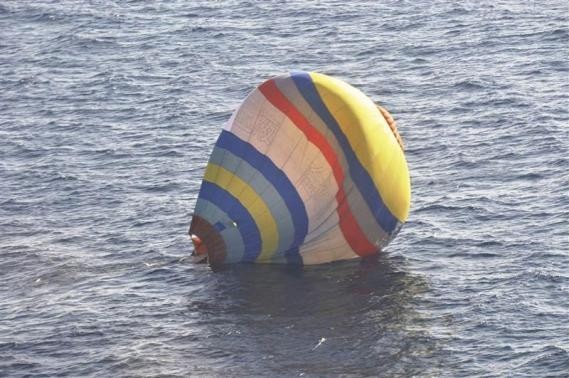 A Chinese man accidently crash landed a hot air balloon in the East China Sea. It might look like a small accident story; a news that does not even merit a corner in a local newspaper. But the event got international attention and was the major headline in mainstream international news outlets. There is a reason for this.
The Chinese man's widely discussed balloon crash would have, in all probability, gone unnoticed if the place where it landed fell elsewhere in the map. But interestingly, the man, identified as 35-year-old-chef Xu Shauaijun, landed himself in the midst of a territorial dispute between two Asian superpowers: China and Japan.
The hot air balloon landed in an area near the contested islands that both countries claim as theirs; an event that could widely be registered in the collective attention of China and Japan, in the backdrop of the looming conflict that is unlikely to end soon.
The man was later handed to a Chinese patrol vessel on Wednesday evening by Japan, and the event is unlikely to have big repercussions in both countries. But the man's adventure with his 'multi-colored' balloon comes amid tensions over the disputed islands between Beijing and Tokyo that has intensified in recent times.
Perceived threats in the East China Sea has been inviting multiple display of fighter jets around the area, raising fears that a strategic and military miscalculation might lead to a major conflict. Any magnification of rivalry is likely to pull Japan's major ally - the USA - into the scene, giving a cryptic reminder of how the Japanese attack on Pearl Harbor pulled the Western giant into World War II.
The difference now, however, is that Japan is an ally to the US, a fact that has always raised temperatures in Beijing. At the exact time when the man, now identified as a native of Hebei provice, crash landed with his balloon 22 km south of Uotsuri Island, Japan Prime Minister Shinzo Abe, in his New Year message, was reiterating his pledge to beef up military plans aimed at countering China.
"Japan will play an even more proactive role than ever before for world peace and stability," Abe said. "We will fully defend the lives and assets of our nationals as well as our territory, territorial waters and territorial airspace in a resolute manner."
Abe was unrelentingly sticking to his controversial visit to the war-linked Yasukuni Shrine on 26 December, even after criticism from international community; the strongest of which was from Beijing.
Adding more fuel to the fire, Japan's Internal Affairs Minister Yoshitaka Shindo on Wednesday also visited the dreaded Yasukuni Shrine which honors 14 Class-A war criminals of World War II, and is considered a symbol of Japan's past militarism and aggression. The incident invited another round of strong condemnation from China.