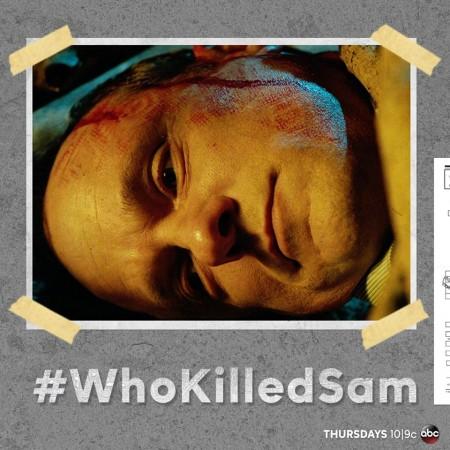 ABC has sought the participation of "How to Get Away with Murder" (HTGAWM) fans to guess the names of key suspects in Sam Keating (Tom Verica) murder case on its official Facebook and Twitter pages by posting the picture of the lead characters with a hashtag #WhoKilledSam.
"The pressure is mounting and so is the evidence! Who do you think killed Sam? Share your guesses and the photos of your top suspect now!" reads "#WhoKilledSam Suspect Tracker" on the Facebook page.
Besides posting the photos of the key suspects, ABC has also posted notes on the reason behind each one of them to do the crime.
The list of prime suspects in Sam's murder case includes Professor Annalise Keating (Viola), Asher Millstone (Matt McGorry), Laurel Castillo (Karla Souza), Wes Gibbins (Alfred Enoch), Connor Walsh (Jack Falahee), Michaela Pratt (Aja Naomi King), Rebecca Sutter (Katie Findlay), Frank Delfino (Charlie Weber), Bonnie Winterbottom (Liza Weil) and Nate Lahey (Billy Brown).
The "#WhoKilledSam Suspect Tracker" begins with Millstone as he was the last one to win the trophy. Besides Millstone, other four first year associates and Sutter are also named in the list as they were in the house during post-mortem.
As per suspect tracker, Sutter could have killed Sam thinking that he murdered Stangard, whereas Gibbins could have attempted the crime to prove his loyalty to Sutter. Pratt's panic attack, Castillo's willingness to break the rules for justice and Walsh's efforts in hacking up the body makes them the key suspects one Sam's murder case.
Being the loyal associate of Annalise, Delfino name is also added in the list of suspects. As per ABC, he might have attempted the crime either for Annalise or Winterbottom. Jealous on Annalise and feelings for Sam could have lead Winterbottom to kill Sam.
On the other hand, Annalise has many reasons to kill Sam – from love for detective Lahey to her husband's relationship with Stangard. While Lahey could have possibly taken his revenge for getting fired by killing Sam, he might also have done it prove his love for Annalise.
As for now, more than 700 viewers have posted their opinion on the Facebook page and several among them have guessed the names of Annalise, Sutter, Gibbins and Winterbottom. However, the TV world will have to watch two more episodes to find out who killed Sam.
It the meantime, the fans of "HTGAWM" can post their guesses on official Facebook and Twitter pages of the legal drama series.