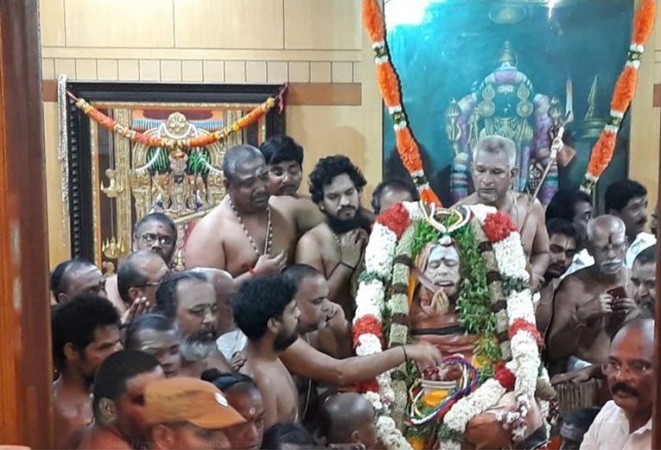 Sri Jayendra Saraswathi Swamy, who was the senior seer of Kanchi Kamakoti Mutt, passed away on Wednesday at the age of 82. He died of cardiac arrest at the Sri Ramachandra Medical Centre in Chennai, Tamil Nadu.
The 69th Shankaracharya Guru was admitted to the hospital as he suffered breathing problems, The Hindu reported. He collapsed on Sunday after complaining of a breathing problem.
"The 69th Acharya of Sri Kanchi Kamakoti Peetam Jagadguru Pujyashri Jayendra Saraswathi Shankaracharya Swamigal attained Siddhi at 9.00 am today — Shukla Trayodashi — 28 Feb. 2018 at Sri Kanchi Kamakoti Peetam Sankara Matam, Kanchipuram," the mutt administration said in a statement on their website.
Who was Sri Jayendra Saraswathi Swamigal?
Jayendra Saraswathi Swamy's original name is Subramanyam Mahadeva Iyer. He was born in Thiruvarur district in Tamil Nadu on July 18, 1935.
In 1954, Sri Chandrasekharendra Saraswathi Swamigal named him the 69th Shankaracharya Guru and head of Kanchi Kamakoti Peetham, which was established by Adi Shankaracharya in the 5th Century AD.
In 1987, he left the mutt and even left behind the sacred thread. He was found three days later but the reason why he left the mutt is still unknown. Sankara Vijayendra Saraswathi, who is appointed as the 70th Jagadguru of Kanchi Kamakoti Peetam after Jayendra Saraswathi's passing away, had also headed the mutt in 1987 when latter went missing for a brief period.
On March 22, 1994, he took charge of the mutt as the Peetathipathi. He commanded great respect in India, especially from the Brahmin community.
However, in November 2004, his arrest had sent shockwaves across India after his name emerged in the murder case of the mutt accountant Sankarraman. He was arrested on charges of "abetting" the murder of the accountant. After 12 years of Sankarraman's murder, he was acquitted in the case.
Jayendra Saraswathi Swamy's successor Sri Sankara Vijayendra Saraswathi will be the 70th Jagadguru of Kanchi Kamakoti Peetam.