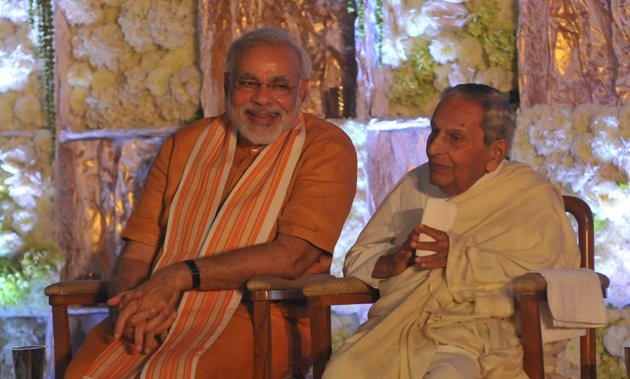 Widely-followed spiritual leader Dada JP Vaswani passed away at the age of 99 on Thursday, July 12 in Pune. Vaswani, the chief of Sadhu Vaswani mission, reportedly died due to old-age related ailments.
Soon after the news of his death came into light, the Sadhu Vaswani mission issued a statement: "On sacred Guruvaar day, our beloved revered Dada JP Vaswani passes on, from the seen to the unseen. Ever-loving, ever-giving, may he continue to bless us from the beyond."
Prime Minister Narendra Modi and President Ram Nath Kovind paid their final tributes to Vaswani. Kovind said: "Sad to hear of the passing of Dada JP Vaswani, a spiritual leader who contributed so much to our society. He dedicated his life to the betterment of humanity, promoting simple living, high thinking, and education. My condolences to his countless followers."
PM Modi took to Twitter to express his condolences: "I join the lakhs and lakhs of people whose lives were touched by Dada J.P. Vaswani in remembering him. His thoughts, teachings and social service efforts live on, highlighting the values he stood for and the work he did."
All you need to know about Dada Vaswani:
Dada JP Vaswani was born on August 2, 1918, in Hyderabad in modern-day Pakistan.
He was a champion of vegetarianism and animal rights.
Vaswani headed the Sadhu Vaswani Mission that was founded by his uncle and guru, Sadhu TL Vaswani.
Sadhu Vaswani Mission is a non-profit organisation that is heavily involved in social work and charity
The Sadhu Vaswani International School was inaugurated by President Ram Nath Kovind.
Apart from being a spiritual leader, Vaswani was also a humanitarian, philosopher, educator and orator
Vaswani passed away at the age of 99 in Pune. His mortal remains were kept at the mission for his followers to pay their last tributes.
Tributes poured in for Vaswani as several political leaders took to Twitter to express their condolences:
Got an opportunity to meet, interact and take blessings from this great humanitarian many times.
His work for animal rights shows his sensitivity towards 'life' !
My tributes to Him & deepest condolences to millions of followers and entire team of Sadhu Vaswani Mission.

— Devendra Fadnavis (@Dev_Fadnavis) July 12, 2018
Deeply saddened by the demise of a spiritual Guru Dada J P Vaswani Ji .
I pray that his soul attains eternal peace.

— Vijay Rupani (@vijayrupanibjp) July 12, 2018
Sad to hear of the passing away of Dada J.P Vaswani. A big loss to the society. My condolences to his countless followers across the world.

— Naveen Jindal (@MPNaveenJindal) July 12, 2018
Disheartened to hear about the demise of Spiritual Leader and Head of Sadhu Vaswani Mission Sh. Dada J.P. Vaswani. He selflessly served the country and touched millions of lives with his work in the field of education. May his blessed soul rest in peace! ॐ शांति शांति ??

— Rajyavardhan Rathore (@Ra_THORe) July 12, 2018