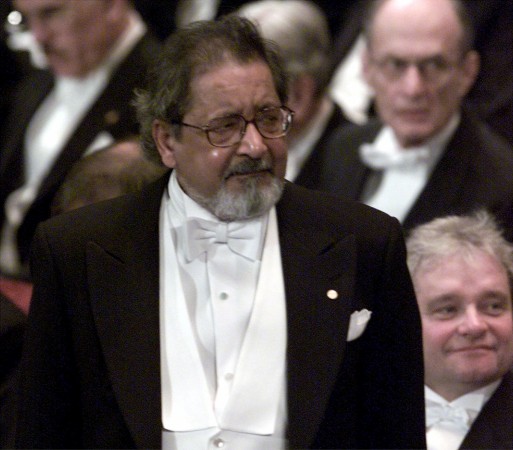 Illustrated writer and novelist VS Naipaul is no more. The Indian-origin Nobel Winning author breathed his last in London at an age of 85. We look back at the author's celebrated and controversial life in this special piece dedicated to him.
Early Life
Sir Vidiadhar Surajprasad Naipaul was born in Trinidad's Chaguanas on August 17 of 1932 to a family that had arrived from India in the 1880s. It was a time when the island and its neighbour Tobago had yet not declared independence from Britain. Naipaul's grandfather had come to Trinidad as a servant from north India while his father worked as a reporter for the Trinidad Guardian. His mother belonged to a family of high-caste landowners who had lost much of their fortune.
After schooling in Trinidad's capital, Port-of-Spain, Naipaul received his education at Trinidad's Queen's Royal College. He won a government scholarship to pursue higher education at Oxford's University College in 1950. After studying at the prestigious university, he joined the BBC as a writer and editor for a program titled 'Caribbean Voices'.
His works
Naipaul's initial books were based on the Trinidadian society and were seen as comic portraits of the lives of people residing in the island nation. While The Mystic Masseur, published in 1957 bagged the Mail on Sunday and John Llewellyn Rhys Prize in 1958, Migue; Street, published in 1959 was a collection of short stories that went ahead to win the Somerset Maugham Award.
The author's critically acclaimed novel A House for Mr Biswas which hit stands in 1961 was based on his father's life in Trinidad. His first novel Mr Stone and the Knights Companion was set in England and won the Hawthornden Prize. Naipaul wrote a lot about colonial and post-colonial societies in the process of decolonisation. The Mimic Men, published in 1967, In a Free State (1971), Guerrillas (1975) and A Bend in the River (1979) are fine examples of how his works were based on political themes.
While The Mimic Men won the WH Smith Literary Award in 1968, In a Free State won the Booker Prize for Fiction. His 1987 book The Enigma of Arrival was a personal account of the author's life in England. A Way in the World, published in 1994 combined fiction and non-fiction in a historical portrait of the Caribbean. Half a Life, published in 2001 was based on the adventures of an Indian in a post-war Britain.
Naipaul also penned a number of non-fiction books including An Area of Darkness (1964), India: A Wounded Civilization (1977), India: A Million Mutinies Now (1990), Among the Believers: An Islamic Journey (1981) and Beyond Belief: Islamic Excursions (1998).
In The Middle Passage: Impressions of Five Societies- British, French and Dutch in the West Indies and South America (1962) and The Loss of El Dorado: A History (1969), Naipaul wrote about the Caribbean. He also published two collections of essays titled The Overcrowded Barracoon and Other Articles (1972) and The Return of Eva Peron (1980).
His most recent works include The Writer and the World: Essays, published in 2002, Literary Occasions, published in 2004 and The Masque of Africa: Glimpses of African Belief, published in 2010 is his latest book.
Award and Honours
In 1989, VS Naipaul got the title of Sir after being knited by Queen Elizabeth 2. In 1993, he received the David Cohen British Literature Prize from the Arts Council of England. Naipaul won the Nobel Prize for Literature in 2001. Naipaul also held honorary degress from the universities of Cambrige, London and Oxford. Cambridge University and Columbia University in New York also awarded him with honarary doctorates.
Controversies
During his life as a novelist and celebrated author, Naipaul was not untouched by controversies as well. The wordsmith faced accusations of racism, sexism, chauvinism and Islamophobia as reported by The Washington Post. Naipaul also had long standing literary spats with acclaimed travel writer Paul theroux and Caribbean poet Derek Walcott. In an interview with biographer Partrick French, Naipaul also admitted of visiting prostitutes while married and of physically abusing his mistress. He surprised his readers when he told French that he treated his wife in such a way that it could be said that he had killed her.