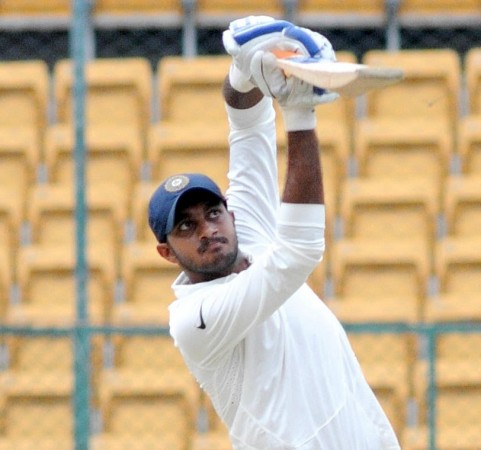 Hours after India's thrilling draw against Sri Lanka in the first Test at Eden Gardens, Kolkata on Monday, November 21, it was announced that Bhuvneshwar Kumar and Shikhar Dhawan were released and Tamil Nadu all-rounder Vijay Shankar was drafted in as the former's replacement.
"Who is Vijay Shankar" was a common question on Twitter on Monday evening and even some big names from the cricket fraternity got the player's details wrong. However, the selection committee, headed by MSK Prasad, seems to have been fully aware of the the 26-year-old's prowess.
Shankar had been knocking the selectors' door with his consistent performances in the domestic circuit and at the India A level. He was reportedly regarded as one of the country's best all-rounders last year by Prasad, who was impressed with the youngster's century in tour game against Bangladesh in Hyderabad.
Shankar though had to wait for his opportunity. After making his first-class debut for Tamil Nadu in 2012, the youngster has seen quite a few highs and lows early in his career that also been affected by injuries.
Even when he was told by his association to get ready right after his Ranji Trophy 2017/18 game against Madhya Pradesh in Indore on Monday, Shankar was not excited, but anxious, as reported by "Sportstar". After all, he was willing to wait a bit more for the official release from the Board of Control for Cricket in India (BCCI).
(The second Test betwwen India and Sri Lanka will be played in Nagpur from November 24)
Here's all that you need to know about promising all-rounder from Tamil Nadu

Vijay Shankar was born on January 26, 1991 in Tirunelveli, a major city in the southern Indian state of Tamil Nadu.
His brother Ajay also plays cricket at a lower division in Tamil Nadu.
He moved to Chennai from Tirunelveli to focus on his game. As a teenager, he used to train on his terrace to avoid travelling.
Shankar has played with his idol Rahul Dravid for Vijay CC in Tamil Nadu first division league and later went on to work under him at India A.
He made his debut for Tamil Nadu in 2012.


He has played 32 first-class matches and has scored 1,671 runs, including five centuries at an average of 49.14. With his right-arm medium pace bowling, he has picked up 27 wickets as well.
Shankar bowled off-spin until he was 20 and then shifted to medium pace to break into the Tamil Nadu team, which already had a lot of off-spinners.
He shot to prominence in the 2014-15 Ranji Trophy after scoring 577 runs, including two centuries for Tamil Nadu.
He was one of the key members of Dravid-coached India A team that hosted Australia A and South Africa A in 2016.
Shankar suffered a knee injury that forced him out of India A's tour of Australia in 2016. He later underwent a surgery that kept him out of the game for nearly four months.
Hardik Pandya replaced Shankar in Dravid-coached India A team and used the opportunity to get back into the Indian side after he was overlooked for India's tour to Zimbabwe last year.
Shankar though made a strong comeback, hitting 312 runs at 52 in Ranji Trophy 2016/17 despite missing nearly half of the season.
He was later appointed as captain of Tamil Nadu. The all-rounder achieved instant success as he led his state to Vijay Hazare and Deodhar Trophy titles in 2016.
Shankar hit a match-winning 72 in the final of a tri-series tournament against South Africa A in Pretoria in August. He then impressed at home for India A against New Zealand A.
Shankar has played three matches for Tamil Nadu in the ongoing Ranji Trophy season. He has hit 118 runs, which includes a century against Odisha and has picked up 6 wickets.
Shankar played for Chennai Super Kings (CSK) in Indian Premier League (IPL) between 2012 and 2014 and plied his trade for Sunrisers Hyderabad (SRH) in 2017.