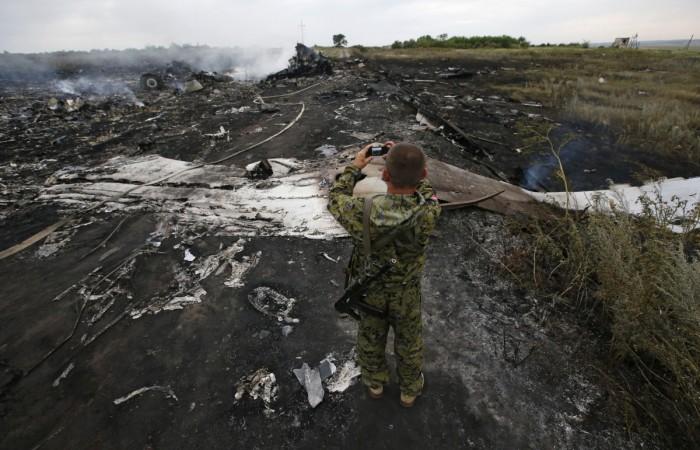 The Russian military said on Monday they traced the two missiles that hit Malaysian passenger plane MH 17 four years ago belonged to Ukraine.
Russia has been under the shadow of doubt after the passenger plane MH17 crashed in eastern Ukraine on 17 July, 2014, killing all 298 on board. The Malaysian Airlines Boeing 777 was flying from Amsterdam to Kuala Lumpur.
The Russian military said in a press conference on Monday that the missiles belonged to the 223rd anti-aircraft defence regiment of the Ukrainian armed forces, according to Russia Today.
Russia claimed that this unit had taken part in the crackdown of anti-Kiev dissidents in eastern Ukraine in June 2014.
The Malaysian plane had crashed in a region under the control of the pro-Russian militia fighting Ukraine.
'Russia must account for its role'
The serial numbers on the missile showed that they were made in 1986 and shipped to Ukraine. These numbers were marked on the engine and the nozzle of the missile, the report said.
The west had held Russia responsible for the shooting down of the passenger aircraft. A G-7 gathering in July had said that Russia must "account for its role" in the downing of the plane.
"We are united in our support of Australia and the Netherlands as they call on Russia to account for its role in this incident and to cooperate fully with the process to establish the truth and achieve justice for the victims of MH17 and their next of kin," the G-7 statement said, according to the Guardian.
According to a Dutch-led investigation that got over in May, MH-17 was brought down by a Buk missile controlled by Russia's 53rd Anti-Aircraft Rocket Brigade based in the city of Kursk.
Russia had said the findings of the Dutch investigation were baseless.