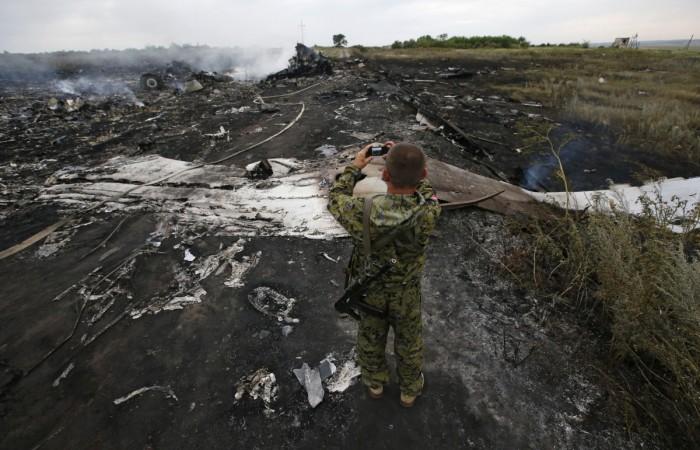 The wreckage of the Malaysia Airlines flight MH17 will be transported to an air base in Netherlands to be photographed, scanned and categorised as part of the crash probe, revealed the Dutch Safety Board.
MH17 crashed in eastern Ukraine on 17 July, killing all 298 on board en route from Amsterdam to Kuala Lumpur. The wreckage would arrive at the Gilze Rijen Air Base in the Netherlands, Sputnik News reported.
"The first transport to the Netherlands comprises several sealed trucks and two covered low-loaders," the board said in a statement, "upon arrival at the air force base, the transport will be unloaded in accordance with a fixed protocol and all wreckage components will be photographed, scanned and categorised following a fixed procedure".
The Dutch Safety Board, based in The Hague, The Netherlands, is an autonomous body that investigates aviation-related accidents among other things. It revealed that a hangar has been cleared especially for the investigation of the wreckage and preparation for its reconstruction.
The board has also disclosed that the relatives of those who died in the MH17 crash would be able to view the wreckage next year.
"The arrival of the wreckage at the air force base will not be of a ceremonial character and those attending will not be permitted to be present during the opening or unloading of the trucks," the statement read.
The exact day and time of the arrival of the wreckage at Gilze Rijen Air Base will be announced in a few days.
Although a preliminary report of the Malaysia Airlines crash said that the flight most likely blew up in mid-air after a large number of high-energy objects penetrated the fuselage, separatists in eastern Ukraine have been accused of shooting MH 17 down as well.
Only after the investigation is completed, will the real reason for the crash be revealed.