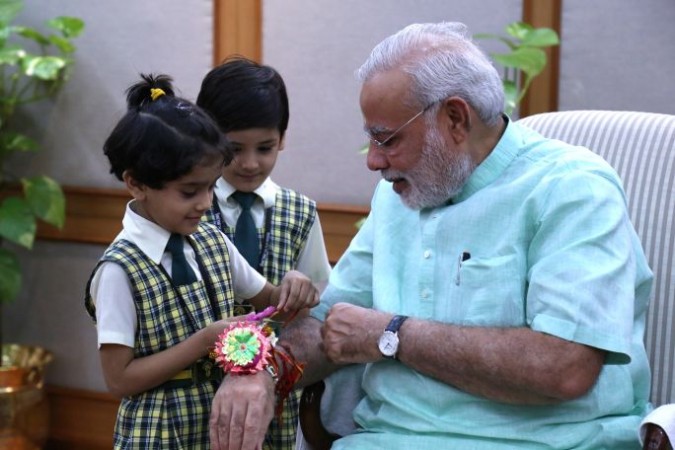 Indian Prime Minister Narendra Modi's 'rakhi sister' Sharbati Devi passed away in Dhanbad, Jharkhand on Saturday. Devi was 103.
PM @narendramodi expressed deep sorrow on the demise of his Rakhi sister Smt. Sharbati Devi from Jharkhand. Last year, She had tied a Rakhi to the PM in New Delhi and during this time there was a good conversation between the two. pic.twitter.com/HQwl7MM7bV

— Narendra Modi Office (@namo_office) March 10, 2018
Devi's funeral will be held on Sunday.
Who is Sharbati Devi?
Sharbati Devi was born before India's partition. She was married to Dhanraj Agarwal and is a mother of nine children. Her husband and two of her children died a long time ago.
Her brother had also passed away 50 years ago. The 103-year-old woman who used to miss her brother wished to celebrate Raksha Bandhan with the prime minister.
Raksha Bandhan or Rakhi is a Hindu festival wherein a sister ties a colored thread on the wrist of her brother to celebrate the bond between the siblings. However, tying a rakhi is not just restricted to blood relatives and is celebrated among cousins and close family friends as well. The men in return gift their sisters.
In 2017, one of Sharbati Devi's sons wrote a letter to Narendra Modi and conveyed his mother's wish to him. The PM then invited Devi to his official residence in Lok Kalyan Marg in New Delhi on Raksha Bandhan on August 7 last year.
The elderly woman beamed with happiness as she tied a Rakhi to Modi. Several other school girls also tied a Rakhi to Modi along with Devi.
Devi is survived by four sons and three daughters. This year, Rakhi will be celebrated on August 26..