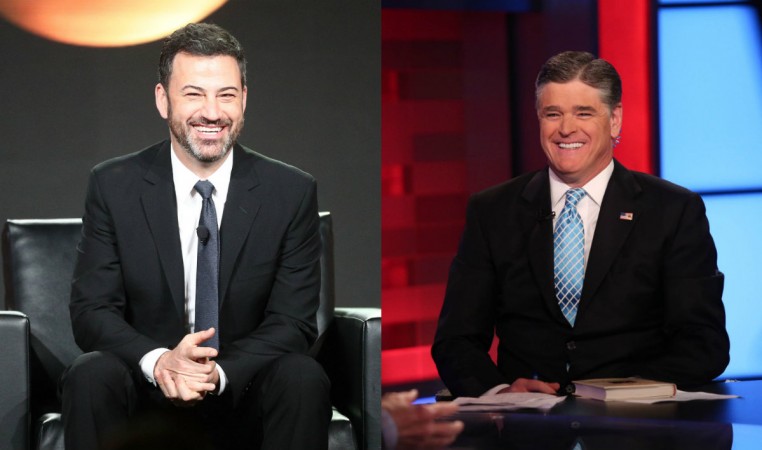 Late night show host Jimmy Kimmel took to Twitter offered to bury the hatchet with Fox News host Sean Hannity. The Jimmy Kimmel Live! host tweeted an apology after taking a dig over the week, which led to an ugly feud.
Kimmel took to the social media platform to apologize to several people he took a jab on, including the first lady Melania Trump.
"While I admit I did have fun with our back and forth, after some thought, I realize that the level of vitriol from all sides (mine and me included) does nothing good for anyone and, in fact, is harmful to our country," Kimmel tweeted.
For those who don't know, the spat between the two television hosts began when Hannity took offense to Kimmel's dig at the FLOTUS. He slammed the host during his prime-time Fox News show, by name-calling Kimmel a "despicable disgrace" and an "ass clown."
The 'he said-he said' blame game turned uglier with every retaliation as Kimmel called Hannity "the whole ass circus." Things heated up further and moved to social media with Hannity calling Kimmel "Harvey Weinsten Jr."
This led to Kimmel making sexually suggestive comments about Hannity's commitment to president Donald Trump. "Don't worry - just keep tweeting - you'll get back on top! (or does Trump prefer you on bottom?)" Kimmel's tweet to Hannity read. This comment was not welcomed by all and it was soon deemed as "homophobic."
As a result of the growing backlash from the gay community, the host took to Twitter to end the ugly exchange of words and said, "By lampooning Sean Hannity's deference to the President, I most certainly did not intend to belittle or upset members of the gay community and to those who took offense, I apologize."
While everyone hopes this apology is accepted by Hannity, CNN shared an interesting blast from the past moment wherein the Fox host mocked Michelle Obama. Pointing out the hypocrisy in the opinion piece, Dean Obeidallah wrote:
"Too bad Hannity didn't feel the same way when it came to Michelle Obama, whom he went after numerous times when she was the first lady. For example, Hannity mocked Mrs. Obama for being part of a rap video that encouraged young people to go to college, declaring on his Fox News show: "The Western world is under constant threat from Islamic jihadists, but your first lady, Michelle Obama, is busy making a rap music video about going to college."
Kimmel has put up his white flag, Hannity has chosen to put his response on hold now.
Just had this pop up. I am at a tournament with my daughter. I'll have a full and comprehensive response tomorrow on Hannity. 9 EST FOX. pic.twitter.com/JLdZDa07BI

— Sean Hannity (@seanhannity) April 8, 2018