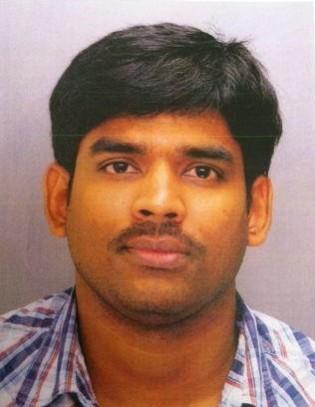 A 32-year-old Indian becomes the first Indian to face the death penalty in the United States. The prisoner, whose name is Raghunandan Yandamuri, was convicted of the murder of a baby and her grandmother.
Who is Raghunandan Yandamuri?
The Pennsylvania Department of Corrections on January 8 said that Yandamuri who is currently on death row will be executed on February 23, according to Indiawest, a US daily.
The accused, who is lodged at the Greene State Correctional Institution, a maximum security prison in Pennsylvania's Waynesburg, will be executed with a lethal injection.
In 2014, he was convicted of killing a 61-year-old elderly Indian woman Satyavathi Venna and her 10-month grandchild, Saanvi Venna.
A native of Andhra Pradesh, Yandamuri went to the US on H-1B visa. He was arrested in 2012 for the crime and he confessed to the murder.
He said that he had barged into the house when Saanvi's parents, Venkat and Latha, were away for work. The victims used to live in the same apartment.
He stabbed the elderly woman to death as she was trying to protect the child. He then abducted the infant in a bid to demand a ransom of $50,000 ( Rs 31 lakh).
He then gagged the baby, put her inside a suitcase and left the bag in the basement gym of the apartment building, where he used to live with his wife Komali.
Ironically, when the cops were searching for the infant, the accused went around distributing fliers for the missing child.
He was arrested one week later from a local casino after which it came to light that Yandamuri had lost 35,000 dollars in gambling and was bankrupt.
After confessing to the murder, the accused had requested the judge to give him a death sentence. "I don't want this hearing. I would rather take the death penalty," Yandamuri told Montgomery County Common Pleas Court Judge Steven O'Neill before he was sentenced, reported Indiawest.
He later appealed his sentence but in vain.
However, reports also suggest Raghunandan may get a reprieve owing to Governor Tom Wolf's death penalty moratorium in Pennsylvania state.