Just a week after joining terror outfit Lashkar-e-Taiba (LeT), 22-year-old Majid Khan, who is known for his football skills in Kashmir, surrendered before the Indian Army's 1 Rashtriya Rifles and the Valley police on Thursday evening.
According to media reports, Khan surrendered along with a rifle in south Kashmir's Anantnag district.
Who is Majid Khan?
Khan, a resident of Anantnag and the only son of his parents had joined the LeT on November 10. He took to social media, especially Facebook to declare his recruitment in the terrorist organisation.
According to the police, the footballer, a second year commerce student at Anantnag, had some links with the overground workers of the Pakistan-based group, which made it easier him to join the outfit.
Friend's death prompted Khan to join LeT
An Indian Express report stated that after the footballer's close friend Yawar Nissar was killed in an encounter with security forces in south Kashmir in the first week of August, Khan's decided to join the LeT.
"He participated in the funeral of his friend and wept till the body was laid to rest. After that he was a changed person," one of his friends was quoted as saying by the English daily.
Why did Khan return?
When Khan posted his decision on Facebook, a few people supported his decision but most of his friends and acquaintances took to social media and appealed him to return to his family.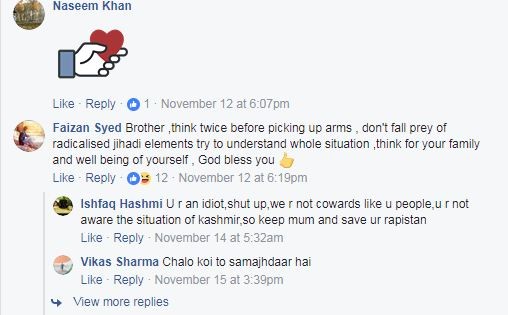 Even IG Kashmir, Muneer Ahmad Khan on Wednesday said that they will make all efforts so that Khan and the other local youths who have joined the terrorist outfit return to their families.
Khan's return has not only made his parents happy but is also being treated as a big achievement for the police.
"We got him back. It's such a happy moment. Mothers prayers answered by Almighty. Sincere request to all the boys who have picked up arms. Return to your mothers, [sic]" a senior police officer said on Twitter.
The polcie department also said that it was a brave decision of Khan's part to come back and surrender.