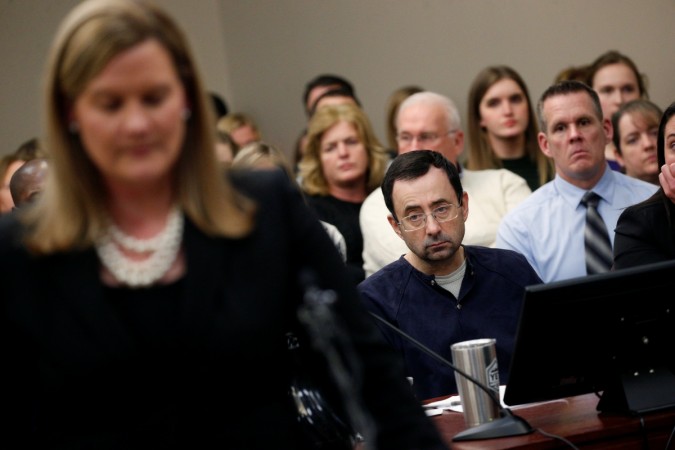 Larry Nassar, the former doctor of the US gymnastic team, who was previously charged with sexually abusing athletes, has been sentenced to 40 to 175 years in prison on Wednesday.
The Judge Rosemarie Aquilina concluded the court hearing saying: "I just signed your death warrant".
The seven-day sentencing witnessed almost 156 girls and women who came forward and admitted to being sexually assaulted by the 54-year-old doctor. There were also other girls who had sent a private letter to the court as they did not want to appear for the session for privacy reasons.
During the court hearing, the judge told the accused "It is my honour to sentence you because, sir, you do not deserve to walk outside of a prison ever again. Anywhere you walk, destruction would occur to those most vulnerable."
Heres how the story panned out for the disgraced doctor:
Nassar had been named in hundreds of lawsuits for his crimes against athletes. He allegedly abused the girls and women under the pretence of giving them medical aid.
The first public allegation came to light in September 2016, when he was accused of sexually abusing over 140 women, including Olympic champions like Simone Biles and McKayla Maroney.
On July 2017, the doctor pleaded guilty to federal child pornography charges, soon after which he was sentenced to 60 years in prison.
On November 2017, he was charged with seven first-degree sexual assaults and later another three additional charges.
And finally, Nassar was sentenced to 40-175 years of imprisonment in one of sports history's biggest sex crime scandals.
One of the victims, Simone Biles, the star of the Rio Olympics tweeted and called the judge 'a hero' for her judgment.
One of the first victims to come forward in 2016, Rachael Denhollander, was extremely satisfied with the decision and told Guardian "the number of sexual assault victims Larry had was plain to me," she further added. "Whether or not anyone would feel safe to come forward, that was the wild card."
The disgraced physician pleaded guilty to all his crimes in the court.