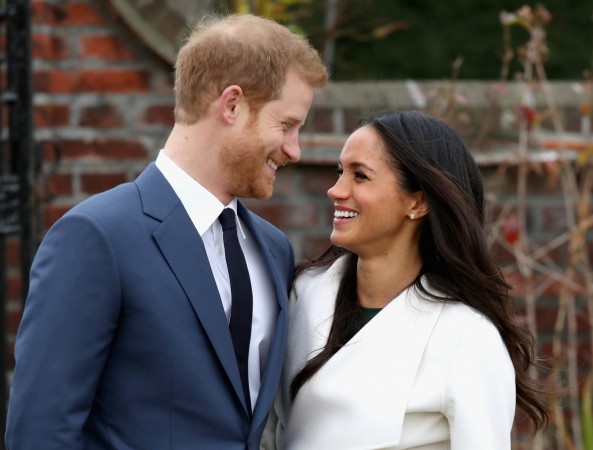 Unless you are living under the rock, or in China, you would be aware that Prince Harry and Meghan Markle are officially engaged and are about to exchange their vows in May 2018. Rumours are on the rise the royal family has been going all out to make their wedding a memorable affair.
After speculations made headlines that the royals could be spending $30 million on Prince Harry and Meghan Markle's wedding, the Jerusalem Post newspaper has reported that Markle could be wearing a wedding gown designed by a popular Israeli designer, Inbal Dror.
Also Read: Is Prince Harry giving Meghan Markle Princess Diana's sapphires as a pre-wedding gift?
Daily Mail reported that the royal family had approached the wedding gown designer requesting her to send across a few sketches of a potential wedding gown that Markle could wear on her big day.
But who is Inbal Dror and why have the royals chosen the unusual Israeli designer as Markle's wedding gown designer?
Well, for starters, let us tell you who Inbal Dror is. The popular bridal gowns designer is known for her glamorous yet regal bridal gowns. Combining beauty and meticulous workmanship, Dror's collection is not limited to gowns but also has a variety of sultry evening wear.
Unlike conventional wedding gowns that most royals and brides are seen sporting, Inbal's gowns are more sexy, daring and are form-fitted designs. The Israeli designer has an inclination towards revealing necklines and racy silhouettes, something that Markle would look stunning in.
"I think the bold style. It's sexy, and I love to highlight a woman's form," Inbal told Elle magazine last year, while describing her designs. "I love it when the bride integrates with the dress, and they become one, like a second skin. Our bride is confident; sometimes quietly confident, and she is always breathtaking," she told Brides Magazine in 2015.
She has been designing wedding outfits since 2014.
What's so special about her gowns?
Inbal's outfits are individually made which is based on 30 different measurements. She believes fit and comfort is the key to the perfect gown. "I truly believe that a bride must, first and foremost, be comfortable with her dress choice. A wedding is such a significant event in a woman's life, and it's how she feels wearing the dress that emphasizes her features, and can make her feel like the queen of the night!" she told Brides.
How much do they cost?
A Dror piece could cost you anything between £6,000 ($8000 approximate) and £9,000 ($12,000) at the Morgan-Davies Bridal boutique in London, Daily Mail reports.
If Meghan chooses her outfit, will this be Inbal's first celebrity outfit?
No. Inbal is a popular name among celebrities. One among them is Beyonce who wore the designer's creation at the Grammys in 2016.
While the royals have reportedly approached Dror, she is not the only one who the royals could be considering for the wedding gown design. Meghan's other choices include Oscar de la Renta (the brand behind Amal Clooney's wedding gown), Canada's Erdem, a gown designed by Meghan's close friend Jessica Mulroney are a few choices, Daily Mail notes.
Prince Harry and Meghan Markle are set to tie the knot on May 19 next year.