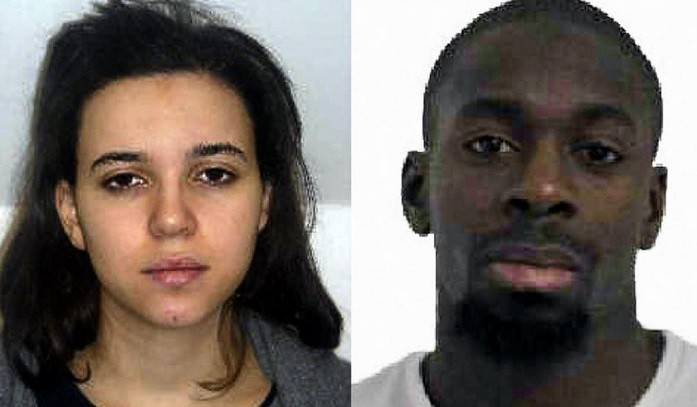 French police are hunting for a woman named 'Hayat Boumeddiene' who is reportedly the girlfriend of Amedy Caulibaly – the gunman who was shot dead by police after the siege at a Jewish grocery shop in Paris on Friday night.
The gunman killed four hostages and and also knew those involved in the Charlie Hebdo shooting incident that occurred in Paris two days ago.
The suspect's partner, Boumeddiene, has been described by police as "armed and dangerous" and her whereabouts are currently unknown.
The 26-year-old has reportedly been in a relationship with the man since 2010. She had been living in Caulibaly's apartment when he was serving time in prison for trying to help Paris metro bomber Smain Ait Ali Belkacem flee from the prison.
French publication Le Monde reported that the woman had said they had practiced firing crossbows together when they had visited Islamic radical Djamel Beghal. Beghal – who was jailed for trying to bomb the American Embassy in Paris - had mentored Caulibaly and Cherif Kouachi (another suspect in the attack), Le Monde stated in its report, according to the British newspaper Independent .
Police released the mugshots of Caulibaly and Boumeddiene, saying they were partners. Police added that they were suspects in the killing of a policewoman Clarissa Jean-Philippe at a metro station on Thursday.
#PHOTO These police images show Hayat Boumeddiene (L) and Amedy Coulibaly (R), suspects in the death of a policewoman pic.twitter.com/qZXyEXlqnv

— Agence France-Presse (@AFP) January 9, 2015
It is not clear whether the woman was present during the attack on the grocery store.
"The investigation from now on is going to focus on capturing the partner of Amedy Coulibaly, who remains at large," Chief prosecutor Francois Molins said as quoted by ABC News, adding that authorities were searching for her and other accomplices urgently.
"It will also have a focus on determining who their accomplices were, how these criminals actions were financed and all the instruction and help they may have benefitted from, whether in France, from overseas or ultimately from Yemen."