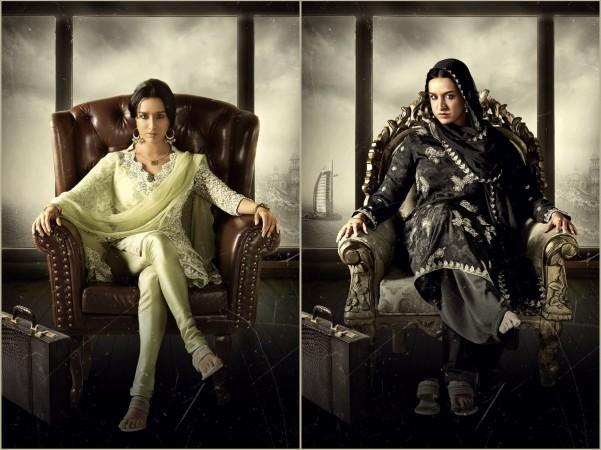 Shraddha Kapoor has shed her bubbly and girl-next-door image to play the role of India's most-wanted criminal Dawood Ibrahim's sister Haseena Parkar. The biopic, directed by Apoorva Lakhia, will release on September 22.
But who is Haseena Parkar? Here are a few interesting to know about the lady don before the release of the film.
Sister of India's most-wanted terrorist Dawood Ibrahim Kaskar
Haseena was the younger sister of don Dawood Ibrahim. She was the seventh child of Ibrahim Kaskar. Haseena had 11 siblings – eldest sister Saeeda (died), brother Sabir Ibrahim Kaskar (killed on February 12, 1981), underworld don Dawood, brother Noor-ul-Haq alias Noora (died of cardiac arrest), brother Iqbal Hasan, brother Anees Ahmad, sister Zaitoon Antuley, sister Farzana Tungekar, sister Mumtaz Shaikh, brother Mustaqeem Ali and youngest brother Mohammed Humayoon (died of lung cancer in 2016).
Her marriage
Haseena was married to Ibrahim Ismail Parkar and had three children – two daughters and a son – with him. In 1991, her husband and Dawood's aide Ismail Parkar was shot dead by the gangster Arun Gawli's gang in 1991. Her son Danish died in a car accident in 2007.
Lady Don or Haseena Apa
Soon after her husband's death, the infamous lady don followed in her brother's footsteps of crime and illegal trades. She shifted to her new house Gordon Hall Apartments in Nagpada and she used to operate her business from there. In 2007, a report said Haseena loved the apartment so much that she threw all the occupants out of the house within half an hour and no one dared to complain about her.
"None of the occupants or owners even whimpered a complaint. She continued to occupy the entire seventh floor in the landmark Gordon House till her death. Her gang members and Dawood loyalists guarded the building," The Telegraph India quoted a police source as saying.

Her illegal business
She handled extortion business, discussed the overseas rights of Bollywood films and ran hawala rackets in Mumbai.
"She managed his extortion business, acquired overseas rights to Bollywood films, ran hawala rackets, meddled in Mumbai's famous cable wars, and settled disputes in return for hefty fees," The Telegraph India quoted a source as saying.
Legal cases against her
Haseena reportedly had 88 legal cases against her, including a criminal case of extortion. In 2007, a non-bailable warrant was issued against her in the extortion case. She surrendered to the police on May 22, 2007, but soon she got out on bail.
Her passport
Haseena's passport number was A2745364, which was issued in April 1997, according to The Times of India. She travelled to Hajj and even visited Dubai. However, she lost her passport when she was returning from the Mumbai Crime branch office in February 2005. She even applied for a duplicate copy, but she was denied the passport.
Her death
She died of heart attack in the early hours of July 7, 2014, during Ramzan. She complained of chest pain and was rushed to Habib Hospital in Dongri of South Mumbai. She breathed her last at the hospital. She was reportedly buried at Mumbai's Bada Kabrastan, where her mother Ameena Bi, father Ibrahim, brother Sabeer and husband Ismail Parkar were buried. According to reports, Dawood had paid the Bada Kabrastan trust to book burial places for his family members.