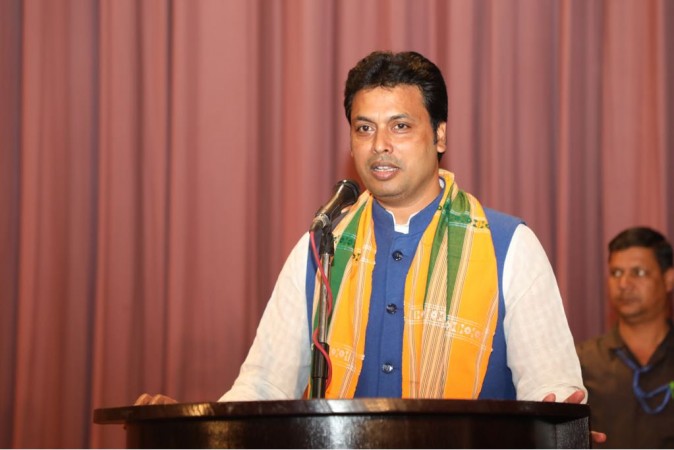 Prime Minister Narendra Modi, in a speech in Tripura on February 8, had urged the people of the state to shun "Manik" — a reference to CPM leader and the state's chief minister Manik Sarkar — and opt for HIRA [the word means diamond in Hindi and some other languages], where H-Highway, I=Iways R=Roads A=Airways.
He may now have a revolution instead of a diamond on his hands, for that is the meaning of the first name of Tripura BJP president Biplab Kumar Deb, a graduate who worked in Delhi as a gym trainer but has his roots in the Rashtriya Swayamsevak Sangh (RSS) — the parent organisation of the BJP.
Biplab Kumar Deb is now being considered the frontrunner for the post of chief minister of Tripura, as the BJP looks set to win 40-odd seats in the Tripura Assembly elections.
Who is Biplab Kumar Deb?
Biplab Kumar Deb is a graduate who started off in politics as an RSS member. His trainer happened to be Sunil Deodhar, who is currently the Tripura state in-charge of the BJP.
In fact, it was Deodhar who appointed Deb the chief of the Tripura unit of the BJP in 2016. Deodhar was also one of the first people to congratulate Deb for the BJP's impending win in Tripura.
Agartala resident Deb had lived for 15 years in Delhi and worked as a gym trainer during his time there. However, he eventually returned to his home state.
Since taking over the mantle of the state chief, Deb has managed to pull many Congress leaders, including Sudip Roy Barman, into the BJP fold.
He has also reached out to many tribes across the state, building with their help a vote-bank that was apparently instrumental in the Congress losing all 10 seats it had managed to win in the 2013 Tripura Assembly elections.
In the end, Deb himself won from the Banamalipur constituency, defeating the CPM's Amal Chakraborty by more than 9,500 votes.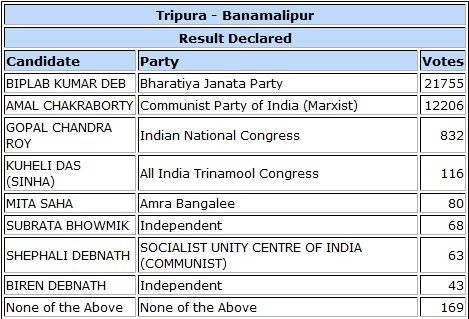 Congratulations pour in
With Deb winning from his seat and the BJP securing majority in the Tripura Assembly, the congratulatory messages flooded in for both the party and its state president.
Prime Minister Narendra Modi said:
The victory of @BJP4Tripura is not an ordinary electoral victory. This journey from 'Shunya' to 'Shikhar' has been made possible due to a solid development agenda and the strength of our organisation. I bow to every BJP Karyakarta for working assiduously on the ground for years.

— Narendra Modi (@narendramodi) March 3, 2018