Virat Kohli and Steve Smith are regarded as best batsmen in the world cricket today, scoring runs against, mostly, all oppositions. They are leading from the front for their respective nations, and the debate -- who is a better batsman? -- never ceases to end. Former India cricketer Sourav Ganguly also opened on both the star players.
The India skipper has had an incredible career so far, scoring 15,000 runs across all formats. Smith, likewise, has done incredibly well with almost 9,000 international runs.
Both the players have been doing exceptionally well, helping their respective nations win matches, thus bringing back the debate back.
Sourav believes Kohli and Smith are the best batsmen going around in international cricket, and the former player loves the Indian player's energy and hunger.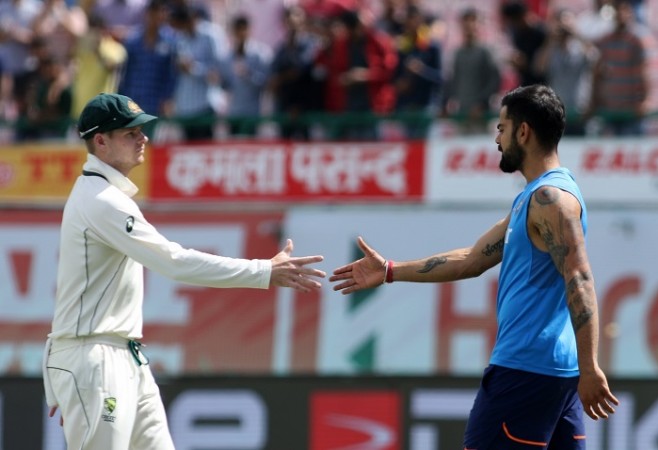 "Let's not compare Steve Smith and Virat Kohli. For me, both of them are right up there and they are the two best batsmen in the world at the moment. Virat Kohli is special. I've seen players and I've played with the greats. His energy, his hunger, the way he turns tables around from the way he keeps scoring runs is phenomenal. Hopefully, he can carry this forward and do even better," Ganguly told India Today.
Kohli and Smith have been in roaring form of late. The Australian scored an amazing hundred in the first Test against Ashes, and Kohli did the same against Sri Lanka in the ongoing second Test in Nagpur.
One has to remember that both the centuries were different from one another as Smith might have scored against a tougher opposition, but one has to remember, scoring a ton is never easy, irrespective of the opposition. Ganguly went on to compare their recent hundreds as well.
"Steve Smith is a champion batsman, if you compare both the hundreds today maybe in terms of the bowling quality England was a better bowling attack than Sri Lanka. But that doesn't take anything away from Kohli. You play what you get and I think he has been fantastic," Ganguly said.