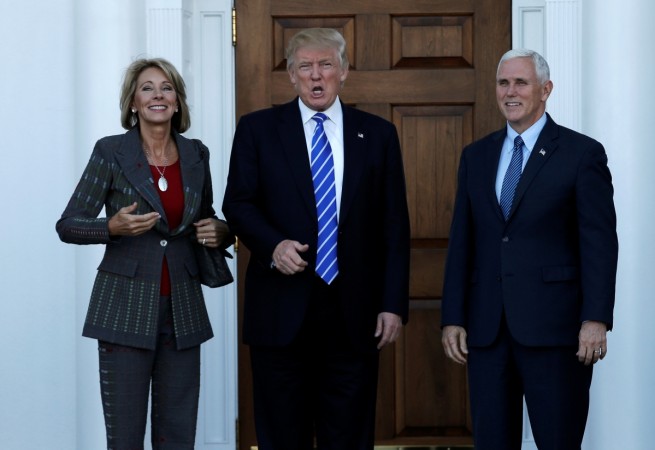 Betsy DeVos has been chosen by president-election Donald Trump to be the next education secretary of the US on Wednesday. He called her "a brilliant and passionate education advocate" while making the announcement.
"Under her leadership, we will reform the US education system and break the bureaucracy that is holding our children back so that we can deliver world-class education and school choice to all families," Trump said.
"I am honoured to accept this responsibility to work with the President-elect on his vision to make American education great again," DeVos said in a statement. "The status quo in education is not acceptable. Together, we can work to make a transformational change that ensures every student in America has the opportunity to fulfil his or her highest potential."
Who is Betsy DeVos?
Elisabeth "Betsy" DeVos is a billionaire philanthropist and a conservative activist who has been fighting for Common Core education standards — common education standards across all states for K-12 students — for which Trump had campaigned. Trump reportedly spoke to her about increasing national standards. However, this proposal may face roadblocks since education is not a federal mandate.
She is chairman of the Windquest Group, the Dick and Betsy DeVos Family Foundation, and the American Federation for Children, and is a member of the board of the DeVos Institute of Arts Management at the Kennedy Center.
She is the daughter of Edgar Prince, founder of Prince Corporation. Her mother was a philanthropist and like her was opposed to gay marriage. Her brother Erik Prince is the founder of Blackwater USA, a controversial private security firm.
She is married to Dick DeVos, son of the co-founder of Amway. He has unsuccessfully run as the Republican nominee for Governor of Michigan.
The 58-year-old is a proponent of the school choice movement and has made substantial donations to the Republicans.
She believes that parents should be able to choose the schools for their children whether traditional public schools, charters, or private schools. The US government could be working on creating a $20 billion federal voucher program so that families could send their kids to the school of their choice.
DeVos and her husband have been against adding oversight in charter schools, which are mainly run by private organisations. Charter schools have drawn flak from the Obama administration for the lack of regulation and falling standards, which eventually hampered education for the economically weaker sections.