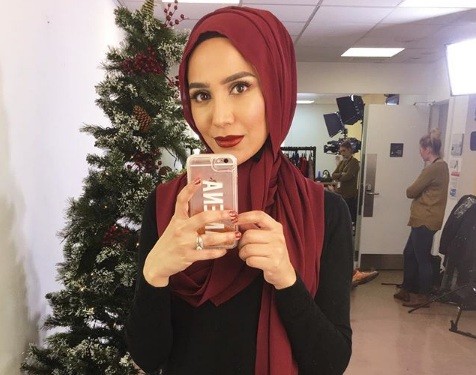 British beauty blogger Amena Khan, the first hijab-wearing woman who got featured in a L'Oréal Paris advertisement, has pulled out from the L'Oréal Paris Elvive World of Care Campaign over a series of anti-Israel tweets.
Taking to Instagram, she announced that she is backing out of the campaign "because of the current conversations surrounding it." She backed out after she received backlash on social media for her tweets she wrote in 2014. Social media users have branded her tweets as "anti-Israel."
Also read: What's all the hullabaloo about hijab-wearing students dancing to Jimikki Kammal song in Kerala?
This comes after she told BBC how delighted she was to be part of a "game-changing" new campaign of the beauty brand.
She also took to Instagram to apologise for her tweets, which have been deleted now. She wrote that she "deeply regrets" her remarks.
The beauty blogger wrote: "Championing diversity is one of my passions, I don't discriminate against anyone. I have chosen to delete them as they do not represent the message of harmony that I stand for."
She continued: "I recently took part in a campaign, which excited me because it celebrated inclusivity. With deep regret, I've decided to step down from this campaign because the current conversations surrounding it detract from the positive and inclusive sentiment that it set out to deliver."
A spokesperson for L'Oreal Paris told BBC: "We have recently been made aware of a series of tweets posted in 2014 by Amena Kahn, who was featured in a UK advertising campaign."
"We appreciate that Amena has since apologised for the content of these tweets and the offence they have caused. L'Oreal Paris is committed to tolerance and respect towards all people. We agree with her decision to step down from the campaign," the spokesperson further added.
Just days before she made headlines for the campaign, Amena told BBC she hoped that her role will inspire young women who wear headscarves as a sense of "belonging, acceptance and being seen."
Check out her 2014 tweets below:
Amena Khan was chosen by @LOrealParisUK to model for the company's newest hair product campaign. However, a search of Khan's Twitter account raises questions about the appropriateness of making her the face of the new campaign. Khan frequently espouses anti-Israel views. pic.twitter.com/ynMQ7dfjXJ

— Aisha Murtad (@UmmAlMumineen) January 19, 2018