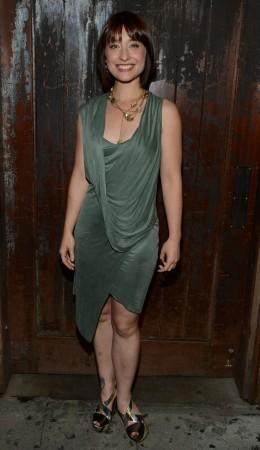 Allison Mack was charged for involvement in sex-trafficking on Friday, April 20. She is known for her role as Clark Kent's confidant Chloe on CW show Smallville.
The 35-year-old has been accused of sex-trafficking for a self-help group for women called NXIVM. She has been alleged of forcing its members to have sex with the leader, federal prosecutors said.
According to the statement released by Richard P. Donoghue, the United States attorney for the Eastern District of New York, the actress is said to have help the organization obtain recruits and exploit them.
What is NXIVM?
NXIVM is a private self-help organization based in Albany, New York, founded by Keith Raniere and Nancy Salzman. According to the website, the organization is a "professional coaching company" and offers "Executive Success Programs," in New York, California, Canada, Mexico and many other places, the website shares.
Raniere, referred as Vanguard by followers, was arrested in March by Mexico federal officials for sex-trafficking. Numerous US publications report followers were forced to fulfill his sexual needs. If they denied, followers feared compromising material about them being publicized, the complaint said.
"As alleged in the complaint, Keith Raniere created a secret society of women whom he had sex with and branded with his initials, coercing them with the threat of releasing their highly personal information and taking their assets," Donoghue said in a statement released in March.
Official said in a statement also added that he created a secret society within NXIVM called "DOS." In Latin, it loosely translates to "Lord/Master of the Obedient Female Companions," or "The Vow."
Mack was immediately below Raniere in the hierarchy. She is said to actively strong-arm and lure women into lower levels of the scheme. Raniere rewarded her with money and "other benefits."
She was taken into custody on Friday afternoon where she pleaded "not guilty." She is held without bail. The bail hearing is set for Monday.
Her publicist has refused to comment as on Friday evening.
Apart from starring in the ten-season CW show, Mack has been a part of movies like The Ant Bully (2006) and Honey, We Shrunk Ourselves! (1997).