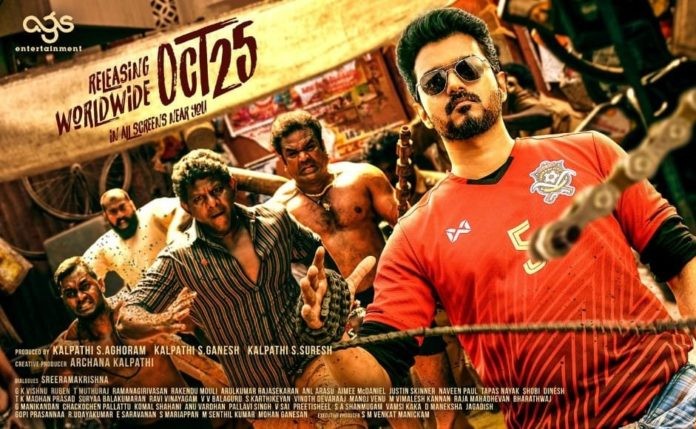 Director Atlee's Telugu movie Whistle starring Thalapathy Vijay and Nayanthara (Nayantara), has partially impressed the audience and received mixed reviews and ratings from them.
Whistle is a sports action film, which is the dubbed version of Bigil. Director Atlee has written the script and dialogues for the movie in collaboration with S Ramana Girivasan. Kalpathi S Aghoram has produced it under his banner AGS Entertainment. The flick has received a U/A certificate from the censor board and its runtime is 2.44 hours.
Whistle movie story: The film is about a coach to the women's football team (Thalapathy Vijay). How hard does he push them towards success? How does avenge his best friend's death? What kind of struggles does face to fulfill the latter's dream. Answers to these questions form the crux of the film.
Analysis: Atlee has chosen a routine story, but added a beautiful message to Whistle. His screenplay is predictable, lengthy and loaded with a lot of mass elements. The first half of the film is entertaining and some parts of the second half are very engaging. But there are some aspects, which seem to be never-ending, say the audience.
Performance: Vijay has delivered an electrifying performance, which is the highlight of Whistle. Nayanthara has good scope for acting and she has done good job. Her chemistry with Thalapathy is good. Vivek, Kathir, Jackie Shroff, Daniel Balaji, Anandaraj, Rajkumar, Devadarshini, Yogi Babu, Soundararaja and others have done justice to their roles, say the audience.
Technical: Whistle has brilliant production values. AR Rahman's songs and background score, GK Vishnu's cinematography, action choreography, dialogues, special effects, art direction, costumes and makeup are the attractions on the technical front, add the viewers.
Whistle movie review live updates: We bring you some viewers' response on the film shared on Twitter. Scroll down to see the audience's verdict and ratings:
Why So Serious! @SurrealZak
Atlee Mass elevations next level ma #Bigil #Bigil - Decent First half with Excellent Pre interval & Interval blocks. #Bigil #Whistle Though u know All the beats of a sports movie n u can predict how it is going end, what makes This movie work is its strong emotions in second half Looking at the response n a gud second half i can safely say Atlee-vijay Combo hits the ball out of the park again
Phani Kumar @PhaniAlwayz
#Whistle Movie Review- @actorvijay Vijay Powers in Perfect Commercial Treat #Vijay Excels , Mass Elements , Grand Production Values ,Message, Direction Lengthy ,Dragged #Bigil is best work from this Combo It is Perfect Mix of Mass and Class - 3/5 #BigilDiwali #BigilReview
MY-POTHESIS @tyadiarikhans
#Bigil 1st half done #Whistle So far everything is good ..!! Scenes between both characters are too good Songs are little interrupting and very little lag is there. Interval shot and emotional connect ❤️
Pr @Pr20252266
Seen Telugu version of #bigil #whistle ,full of Tamil flavour hard for Telugu audience just like #mersal last time.overaction in almost all elevations,at a point couldn't bear anymore in 2nd half maybe Vijay fans may like due to Tamil nativity #BigilDisaster Telugu lifetime 6-7cr
Mahesh Reddy @MaheshFanOfSSMB
#Bigil First Half Done 5/5 First Half @Atlee_dir @actorvijay as rayappan Emotions Vera Level #BigilDiwali #bigilfdfs #bigilday #bigilfromtoday #whistle
Satish Reddy Jadda @satishjadda
#Whistle Ratings: Vijay 3*/5 (for fans) VFX 1*/5 Action 3*/5 Direction 3*/5 Editing 2*/5 Screenplay 0.5*/5 Cinematography 2*/5 Baground Music 2*/5 Story 2*/5 Music 1*/5 Overall Film Rating 1.5*/5 #Whistle #BigilDiwali #Whistlediwali #Bigil #OneWordReview "No Sound"
Diehard NTR fan @urstruleyurfan
Just Finished Watching #whistle Blockbuster Written All over It Thalapathy Vijay Outperforms Every other Actor in the film. Best Film of This decade Nanba @Atlee_dir You are the best 3.5/5 Don't miss watching this in Theaters #blockbusterwhistle
Mirchi9 @Mirchi9
#Bigil #Whistle Review – Predictable Sports Drama With A Nice Message Rating: 2.5/5 Overall, #Bigil is a lengthy & predictable mass loaded sports drama. It's a one-time watch that leaves us with an exhausted feeling at the end. #BigilReview First Half Report: Lavish production values and @Atlee_dir mark stylish presentation make the routine #Bigil first half watchable. Final Report: Parts of the second half are very engaging, but there are some that feel never-ending. Overall, #Bigil is a tiring sports drama held together by dazzling visuals and #Vijay
TOLLYWOOD SCOPE @Tollywoodscope
#WhistleReview Disappointing sports drama with a gangster angle. Weakest among #atlee films! Poor screenplay. Poor production values (Football scenes ) Character of #Royappan and #ARR music dept. standsout! Other than that, not even worth half the hype!!! 2/5 #Whistle
@KodelaDeepak
#Whistle 1st half is average (Tamil flavour, may work for Target audience) and 2nd half is Good. Smartly packaged Entertainer with good balance of social and commercial elements. Worth a watch. #Bigil
Sai NTR™© @Sai_tarak9999
what a fantastic movie #whistle is! Truly one of the best commercial movie of the year. More than commercial elements it is the content which makes the film very special experience! kudos to @actorvijay, @Atlee_dir and entire team for making this one! #Bigil #blockbusterbigil
Telugodu @melokforu
#Bigil 1st half done: Mass,Fun, Emotions everything mixed up in it. Very well portrayed by @Atlee_dir #Thalapathy #Vijay asusual TOP CLASS PERFORMER Though few scenes can be editable also to reduce length. A very Good first half 3.5/5. #BigilDiwali #BigilFDFS #Whistle
MB @Urstrulynare
#whistle # bigil E atlee gadu inka antha kalam ave movies thesthadu Vidu telugu lo direct movie thesthe denifite ga flop avthundhi First half worst Second half ok Vijay performance good Run time minus Unwanted emotions