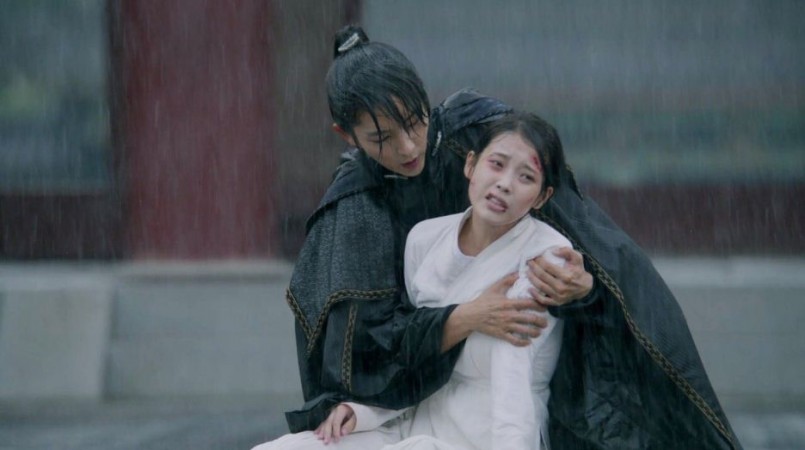 Moon Lovers: Scarlet Heart Ryeo returns with episode 10 tonight, September 26, at 10 pm KST on SBS with more drama for Wang So, Hae Soo and Wang Wook.
In the sequel, Dowager Empress Yoo a.k.a Queen Shinmyeongsunseong will seed her next move against Crown Prince Wang Mu. She will try to kill him with the help of her son Prince Wang Yo and the eighth prince of Goryeo Dynasty.
Watch Moon Lovers: Scarlet Heart Ryeo episode 10 live online here to know more about the evil plans of Park Ji-young's character and its impact on the lead characters. The sequel can also be live-streamed through SBS app. Click here to watch it online free.
The upcoming episode of the SBS drama is considered as one of the most anticipated sequels of the show as its trailers and teaser images hinted at troubled moments for Prince So and Hae Soo.
The promos of Scarlet Heart Ryeo indicate that the outcome of the evil Queen's plan will get the new court lady and the fourth Prince into trouble. While the videos show Lee Joon-gi's character fighting for life, the pictures feature Lee Ji-eun's character in trouble.
In some of the promotional photos, uploaded by SBS on Twitter, the court lady Soo can be seen crying loudly with blood on her face. It seems that she is being punished for trying to poison the crown Prince.
The sneak peek images of Moon Lovers even indicated that Prince So and Court Lady Soo will be thrown out of the palace as they are seen wandering around in rain.
Additionally, cast member Kang Ha-neul, who portrays 8th Prince Wang Wook in Scarlet Heart Ryeo, teased an intense episode. "Episode 10 is really coming up. Moon Lovers will become dramatically deeper and more heartbreaking than its first nine episodes," he said.
Meanwhile, the fans of Moon Lovers: Scarlet Heart Ryeo can also expect some lighter moments in the upcoming episode as the 10th Prince Wang Eun is all set to entertain everybody in the palace.