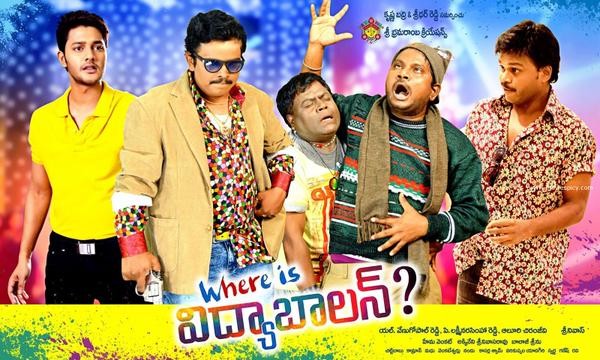 Director Srinivas' Telugu movie "Where is Vidya Balan?", starring Prince and Jyothi Setti in the lead roles, has received mixed reviews from film critics.
"Where is Vidya Balan?" is a crime comedy movie with all the elements that makes it appealing to the mass. Kakinada Kiran (Prince) is a B Tech graduate, but earns his livelihood by working as a pizza delivery boy. He falls in love with doctor Swathi (Jyoti Sethi) and the couple get embroiled in a high-profile murder mystery. What happens next will form the crux of the movie.
The film critics opine that "Where is Vidya Balan?" has an interesting story, which is packed with issues such as money laundering, organ trading and transgender, but it ends up compromising its crucial point. The first half of the film is slow and boring, but the engaging second half compensates for it.
Here is the "Where is Vidya Balan?" movie review round-up:
Relying on the characters and their quirks, the film presents some elements like parody. Banking on Pawan Kalyan's craze is a scene that juxtaposes itself with footage 'Badri'. Interwoven around the crime comedy is a romantic track. Prince and Jyothi strike good chemistry; romance is in store in the midst of hot pursuit.
"Where is Vidya Balan" has some entertaining moments. Interesting second half, Samporrnesh Babu's comedy and a hilarious climax save the film from sinking. If you manage to sit through the slow first half, you can easily give this passable crime comedy a shot.
The auteur of director Katha, Srinivas, strictly made a film that appeal to mass audiences. The crime comedy initially struggles as the first portion of the film is the stumbling block. It took a while for the director to realise and set the film straight. Post interval, the film picks up and as the movie progresses towards end, it appeals. The comedy scenes are hilarious and they give a run for money to other crime comedies. The nuances of don Ganta (Sampoornesh Babu) tickle the funnybone and make the film engaging.Also, the romance between the lead pair Kiran, Swathi (Prince, Jyothi) is passable.
The screenplay has its highs and lows. At some points it is engaging while at others it is quite weary. Some scenes are well designed and click perfectly with the audience. However it has too much lag in many places. There are a few, clearly unnecessary scenes that seem to have been put in place to stretch the story but quite unlikely to impress the viewers, on the whole. The dialogues are really good, they are well written and trigger spontaneous laughs at many places. Music is average and acceptable from a fresh composer. Overall it is a fun fare not to be taken seriously. Would say it is okay in the making, in its own scope. It may not be a must watch, but if you end up watching, you surely will not repent.