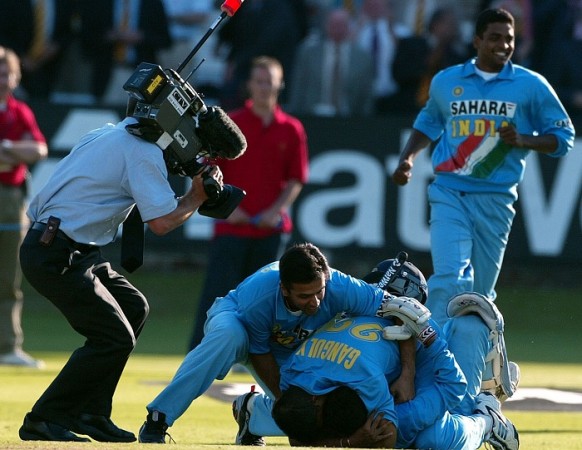 One of the greatest Indian cricket captains, Sourav Ganguly, has often described that his famous topless act from the balcony of Lord's 14 years back, was a spur of the moment one. However, 'Dada' himself cannot ignore the fact that whatever happened in 2002 was a million-dollar moment and his image of waving the shirt is not easily forgettable, even now.
The date cannot be easily forgotten too -- July 13, 2002 -- exactly 14 years ago, India bagged one of their most impressive ODI wins on foreign shores -- against England in the NatWest Series.
India had been asked to chase down an imposing total of 326 runs in 300 balls -- a mammoth total years back. At one point, Ganguly's India were languishing at 146/5 and that's when the duo of Yuvraj Singh and Mohammad Kaif decided to don the hat of saviours and write their name in the history books.
With three balls and two wickets to spare, the duo gave a sensational performance to seal the fate of the game. Yuvraj and Kaif built up a match-winning partnership of 121 runs. While Yuvraj scored 69, Kaif was unbeaten on 87 in the end. The rescue act for India deserved a standing ovation from India and the skipper made sure he made the moment everlasting.
Ganguly took off his shirt, started waving and the rest was history.
Virender Sehwag, who has always revered Ganguly as one of his role models, recalled the moment on Wednesday and mentioned that 'Dada' was no less than Salman Khan at that point. Bollywood superstar Salman, who is seen in 'Sultan', made a name for himself posing topless in his movies like 'Dabangg', 'Pyar kiya to darna kya' and even 'Maine pyar kiya', his debut film.
Kaif, too, remembered the moments.
Veteran cricket commentator and analyst Harsha Bhogle, too, paid tribute to Ganguly. "I have often talked to Sourav about that moment and he admitted that in retrospect, he was embarrassed by it. But it became the symbol of its times and, dare I say, one of the three or four moments, he will eventually be remembered by," Bhogle wrote.
Re-live the moment here: