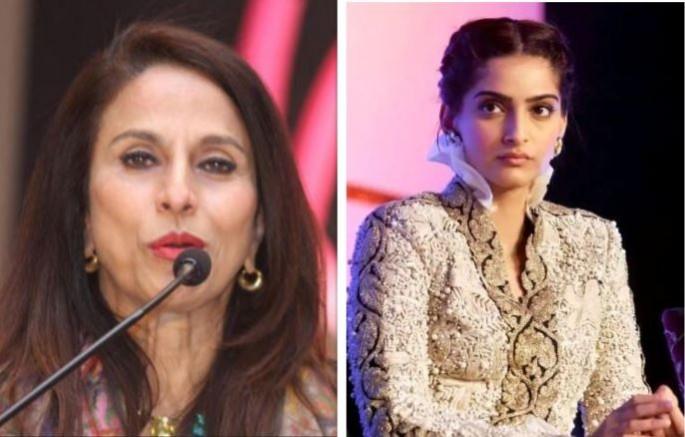 Though things might seem to be fine between eminent writer Shobhaa De and versatile Bollywood actress Sonam Kapoor, there was a time when their war-of-words had taken a really nasty turn.
Back in Sonam Kapoor's early days in the industry, the Kapoor girl appeared on the cover of Vogue as the top amongst India's 50-best dressed women. While fans and the industry went gaga over the cover, Shobhaa De had a rather unsavoury opinion on the picture. Shobhaa took to Twitter to say, "Sonam just doesn't cut it in the sex appeal stakes."
However, not the one to take unkind opinions lightly, Sonam retorted saying, "for a 60-something porn writer, I am sure she (Shobhaa) knows what she's talking about."
Ouch! That must have hurt. But, not that hard as Shobhaa again took to Twitter after watching Sonam Kapoor's film – I Hate Luv Storys. De wrote, "I hate dumb stories." And this time too, Sonam wasn't ready to let it go. She wrote, "Guys pls don't take Shobhaaa De seriously. She's a fossil who's getting no action and going through menopause."
Not just this, when Shobhaa De took potshots at Deepika Padukone on being called Maxim's Sexiest Woman Alive, the writer wrote, "Deepika P is the 'sexiest woman on earth? Are they kidding me? She would not win a Miss Dombivali contest. I mean, look at her closely. Go on: jawline? Too wide. Eyes? Bulging. Hairline? Untidy. Speech? Verni."
Sonam, who is not a very-good-friend of Deepika Padukone, had jumped into the conversation and said, "If she (Shobhaa) thinks Deepika is ordinary then she sure needs to wear glasses. Her eyesight is failing her."
Woah! That indeed was some tough war-of-words, don't you think?