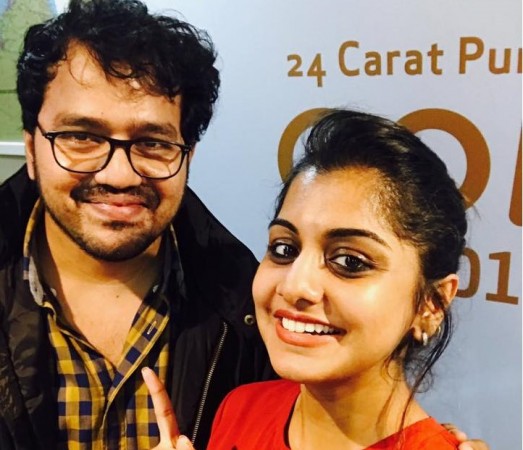 It was Jayasurya's comedy horror thriller Pretham that introduced mentalism and mentalist Adarsh Aathi to Malayalam audience. The versatile actor had shared few videos showing Aathi's mentalism. Now, a video of him surprising actress Meera Nandan has surfaced online.
The actress, who is currently working with Gold 101.3 FM in the UAE, interacted with the mentalist during her chat show. The live video of the show was shared on the Facebook page of the radio station, in which we see how Aathi could read the mind of the actress.
When Meera was asked to think about an incident she spent with someone she knows, Aathi was quick to find it to be actress Kalpana, who recently passed away. Not just that, he even showed a thing in which "In loving memory of Kalpana" has been engraved. He could even read Meera's mind closely looking at the expressions and gestures of the actress. The video has been viewed on Facebook more than 1 lakh times, at the time of reporting.
Watch how actress Meera Nandan faced one of her fears on Face Your Fear Day
Meanwhile, a few days ago, as part of Face Your Fear Day 2016, Meera had performed adventurous skydiving by jumping from a height of almost 13,000 feet in Dubai. The video of her daring act was shared on Facebook and the actress said it as the best thing she has ever done in her life.
"Skydiving has been in my bucket-list for a very long time. It was an amazing experience, seeing this beautiful city from up there. I would definitely do this again if I get a chance. It is something that everybody must try at least once, sky is the limit, fly high," Meera had then told International Business Times, India.
Watch the video of Meera with Aathi here: