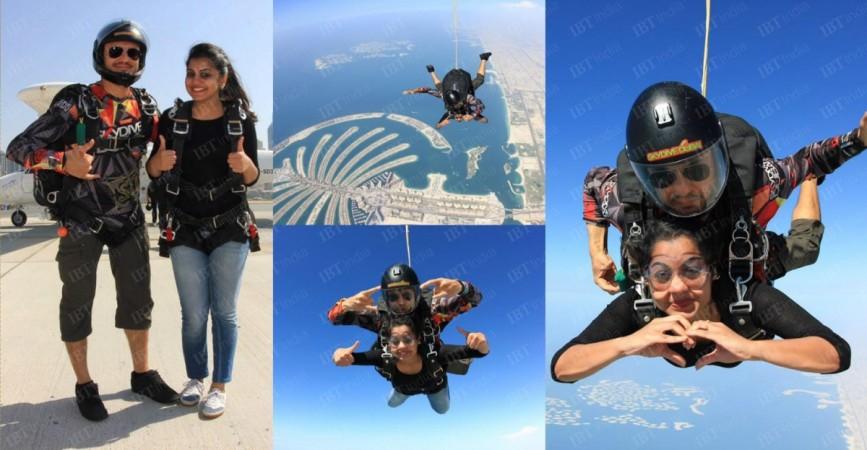 Actress Meera Nandan, who became a household name after her debut performance in the family entertainer Mulla opposite Dileep in 2008, has faced one of her biggest fears on Face Your Fear Day, that is observed on October 11 every year.
Meera, who is currently working as a radio jockey at Gold 101.3 FM in the UAE, performed an adventurous skydiving by jumping from a height of almost 13,000 feet, and its video has been shared on the Facebook page of the radio station.
Calling the daring act as the best thing she has ever done in her life, Meera wrote: "Something that I've been waiting to do since quite a long time!! And 'Face your fear day' was the perfect day to do this.. jumping from almost 13,000ft wasn't easy... but I enjoyed it to the fullest! Trust me guys.., I've never done anything so amazing in my life all alone!!! [sic], while sharing the video of her skydiving on Facebook.
"Skydiving has been in my bucket-list for a very long time. It was an amazing experience, seeing this beautiful city from up there. I would definitely do this again if I get a chance. It is something that everybody must try at least once, sky is the limit, fly high," Meera told International Business Times, India. The five-minute video of the actress, uploaded on Facebook on Tuesday, October 11, has already gone viral with more than 1.32 lakh users viewing it on social media.
Meanwhile, on the acting career front, Meera was last seen in Angane Thanne Nethave Anchettennam Pinnale and is awaiting the release of the upcoming Malayalam movie Gold Coins, in which she plays the role of a school teacher named Smriti.
Watch the video of Meera skydiving in Dubai here: