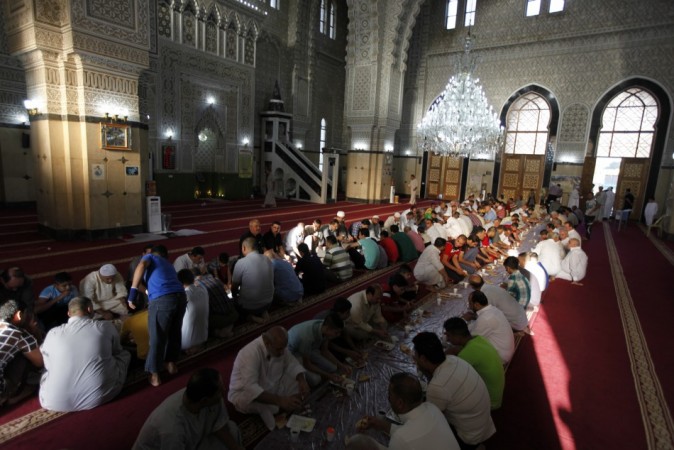 The holy month of Ramadan and the time of fasting has come to an end. Muslims around the world will mark the end of the holiest month in the Islamic Calendar and start the lunar month Shawwal next week.
Eid al-Fitr, also called the festival of fast-breaking, will mark the beginning of Shawwal across the world. Eid will be celebrated on different dates, depending on the moon's sighting.
In several countries, the festival will be celebrated on 28 July, while in others it will be on 29 July.
In India, Muslims will celebrate the festival on Monday or Tuesday, depending on the moon's sighting. In Pakistan, Eid will be celebrated on Tuesday as there are no chances of moon to be sighted on 27 July, The News Tribe reported.
In the United Kingdom, Eid al-Fitr is likely to be celebrated on 29 July, according to timeanddate.com.
In the United States, Muslims will mark the beginning of Shawwal on 28 July, the Fiqh Council of North America, an association of Muslims which is affiliated with the Islamic Society of North America (ISNA), stated in a press release.
Muslims in Philippines will celebrate Eid on Tuesday as the official date of the end of Ramadan has been set as 29 July. The Philippine Government in their proclamation had declared 29 July as holiday throughout the country in observance of Eid al-Fitr.
How Muslims mark the beginning of Shawwal
Eid al-Fitr is one of the important festivals for Muslims around the world. Eid may be celebrated on different days around the world but it holds the same meaning.
Eid is a three-day festival where people meet loved ones and greet each other Eid Mubarak. Muslims around the world decorate their homes, donate food to poor people and visits friends and family during the occasion.
They celebrate the festival by organising grand feats for family and friends.
In the UAE, fireworks displays will light up the sky starting from 28 July to 1 August. The fireworks will start at 8 pm from the Dubai creek, according to Gulf News.
Fireworks displays will be held at Al Qasba in Sharjah at 10 pm on the first and second day of the festival. Apart from that, Al Qasba has also organised some shows for its visitors to celebrate the festivals. The shows will take place on four days, starting from 28 July.