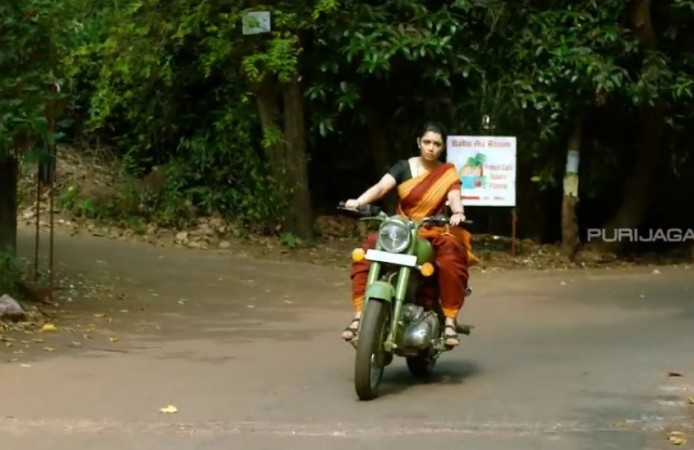 Actress Charmme Kaur (also spelt as Charmi or Charmy) has revealed that she rode a bullet, wearing a sari and that it was for the shooting of a scene in Puri Jagannath's upcoming movie, "Jyothi Lakshmi".
In an interview to The Times of India, Charmme said she used to steal her brother's bike and go for a ride. So it was not a big deal for her when Puri Jagannath asked her to ride a 500cc bike. The actress says that she did "two rounds of practice" before starting shooting for the scene.
"One day Puri called me and asked if I can ride a 500 cc bike. He'd conceived a scene in which I was required to overpower a cop and take his bike for a spin. I was like, 'No sweat.' I was 13 when my folks gifted my brother his first bike. I used to steal the keys and take it for a spin," she told TOI.
Though she knew how to ride a bike, it was reportedly a bit tough for her to do the same wearing a sari. "But I never rode a bike clad in a sari. That was the difficult part. We shot the scene in Goa, and funnily, it made me feel all manly. I would take off on the bike every day after the shoot," Charmme added.
Charmme Kaur will be seen as a sex-worker in "Jyothi Lakshmi". The actress says that she performed it without any home work and her spontaneous performance apparently left the members of the film unit with a surprise.
"The character has different shades to it. In the first half, the audience will see an unapologetic sex worker. In the second half, she transforms into a conventional homemaker. There are plenty of high voltage action sequences as well," she explained about her role in the film. "The crew members were shocked to see how seamlessly I could pull off the different shades in the film."
The bike-riding scene of Charmme, which is also featured in the theatrical trailer, is expected to be one of the main attractions of the film.
Watch 'Jyothi Lakshmi' trailer below: