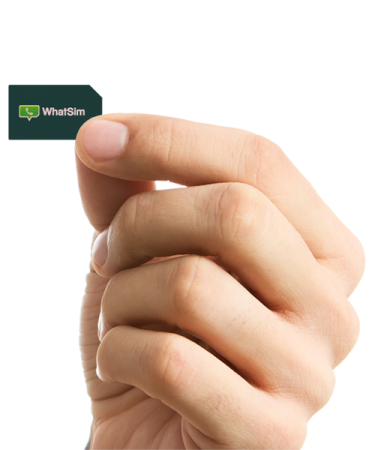 WhatsApp is clearly the most popular and widely used messaging application with over 700 million active users worldwide. The service has largely become a part of our daily communication and it gets difficult while roaming due to pricey data charges and lack of Wi-Fi zones everywhere. To overcome this problem, founder of Italy's Zeromobile, Manuel Zanella, developed a dedicated SIM card for using just WhatsApp anywhere in the world.
Zanella aptly named the new product, WhatSim, drawing resemblance to the service it offers. With WhatSim, users can use the messaging app to chat with friends for free without any limits. Most importantly, the unique SIM works across 150 countries and picks up local networks from more than 400 operators to put them on the best coverage. This means, there is no need to rely on the hotel's hotspot or shell out steep roaming costs to use a free messaging service.
While it all seems good with WhatSim, users must pay in order to avail these benefits. Firstly, WhatSim costs €10 (approx ₹714) that comes with one year validity for unlimited texting and it can be shipped anywhere in the world for EUR 5 by standard mail (5-15 days).
But WhatsApp is capable of more than just messaging, like sending photos, videos and voice notes. To unlock multimedia sharing on WhatSim, users need to buy credit packs. To share a photo via WhatSim, a user must have at least 20 credits or up to 200 credits, depending on the region.
For instance, in India, to send one photo will require 150 credits, a 10-second video will cost 600 credits and 30 credits for voice messages. But then in the US, the UK and other Zone 1 countries, each photo will cost 20 credits, a video will cost 100 and voice message 5 credits. These credit charges vary based on the region customer is travelling.
Users can buy credits just like recharging a prepaid account. For €5, WhatSim gets 1,000 credits, which can be used to exchange "50 photos or 10 videos in many countries around the world," Zanella said, NDTV reports.
After one year, users can simply renew WhatSim by paying €10. Upon renewal, WhatSim is offering the refund for WhatsApp's subscription fee in the form of credits.