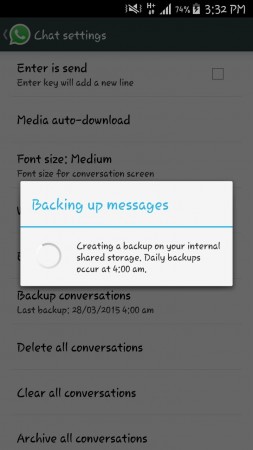 WhatsApp has ignited curiosity among users with the anticipated voice-calling rollout. To add to the cheer, the company is now planning to continue the demand by rolling out new features in future updates.
A new report has emerged with proof showing that WhatsApp's plans to integrate Google Drive support. This will allow users to backup and restore data on the app with ease.
According to a report from Android Police, DroidApp captured screenshots of the new feature that proves WhatsApp is readying Google Drive integration on its app. By the looks of it, Google Drive will bring its customary features on board WhatsApp. Users will be able to backup and restore images, messages and audio files but video files are left out of the picture.
WhatsApp already has a built-in backup and restore function but it is limited to storing data on phone's internal memory or SD card. Such storage options do not always guarantee a full backup. For instance, if the SD card or the phone's memory is corrupted, users will lose everything. Also, taking a backup on PC can be a painful task as users will have to go through a hoard of folders to locate the right one. Even if users manage to take a backup on PC, retrieving the data on a new device is not entirely fool-proof. There's a high possibility that the app may not recognise the backup file.
By adding Google Drive to WhatsApp, users will not only get a guaranteed way of backing and restoring important data, but also a familiar source as Drive is one of the most popular cloud storage devices. Users will not have to worry about losing data even if the device memory is corrupted or lost.
Restoring the backed up data will happen only during the app setup. If users ignore or fail to do so, the data will be lost, the publication notes.
It is too early to map the Google Drive integration on WhatsApp, but considering that voice-calling rollout is still underway, the latest rumour will get some official attention later on.