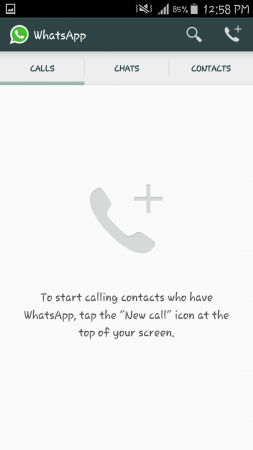 If you were eagerly waiting to test out the WhatsApp voice-calling feature on your Windows Phone device, here's your chance.
On Tuesday, WhatsApp developers rolled out a major update to Windows Phone version of the app to include the feature. Windows Phone is the last mobile platform to receive the WhatsApp VoIP feature after Android, iOS, Tizen and BlackBerry operating systems.
WhatsApp voice-calling for Windows Phone was confirmed by the app's listing on the Windows Phone Store. According to the change-log, the feature works only on handsets powered by Windows Phone 8 and above, which accounts for majority handsets.
"Call your friends and family using WhatsApp for free, even if they're in another country. WhatsApp calls use your phone's Internet connection rather than your cellular plan's voice minutes," WhatsApp release notes explain.
The rollout of voice-calling on Windows Phone completes the update process for WhatsApp, as all platforms are now in sync with the latest feature.
The feature was first available on Android through invite-only system, during which it garnered a lot of attention from users. Slowly, the company started rolling out the feature to every user and updated iOS app and BlackBerry app in April.
The Windows Phone version of the app was due to receive the voice-calling feature in April but was delayed for unknown reasons. The arrival of the feature was, however, imminent.
Despite the rollout, WhatsApp voice-calling may not be as popular as it was thought to be.
Users who are on limited data plans might find it hard to manage. As per a research conducted by AndroidPit, WhatsApp voice call for 60 seconds consumes 1.3MB of data. It implies that calls for up to 16 hours and 45 minutes will require 1GB data, proving costly for users.