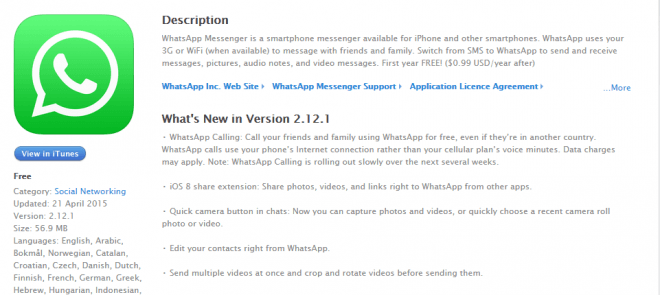 WhatsApp is finally turning to the second most popular mobile platform, iOS, for its anticipated voice-calling rollout. After weeks of waiting, iPhone users will finally be able to take advantage of the VoIP feature integrated within the app and make free calls to other WhatsApp users. To compensate for the long delay, WhatsApp has added some nifty features to enhance the overall user experience.
The voice-calling rollout on iOS platform comes less than a month after the feature was officially rolled out to Android users. But users of Android smartphones got their hands on the voice- calling feature during the company's beta testing phase. WhatsApp did not allow iPhone users to join them when it was testing the feature, but the official rollout makes a hassle-free update without going through complicated steps.
How to update your iOS WhatsApp with voice-calling?
Voice-calling on WhatsApp is available on version 2.12.1, which is available on iTunes. You can download the updated app directly from iTunes or go to the app's Settings on your iPhone and Check for updates.
It's worth noting that WhatsApp's change-log on iTunes says the voice-calling feature is being rolled out to all iOS device owners "slowly over the next several weeks."
As long as you have the latest WhatsApp 2.12.1 on your iPhone, the voice-calling will start working. If you haven't received an update alert on your iPhone, wait for a few days.
Other Changes in WhatsApp 2.12.1
As mentioned above, WhatsApp did not just add voice-calling to its iOS version of the app. The updated WhatsApp comes with iOS 8 share extension, which lets you share videos, photos and links to WhatsApp chats from other apps. Users can also share multiple videos simultaneously and also crop and rotate before sharing.
Like the Android version of the app, WhatsApp for iOS will allow users to add and edit contacts from within the app, a feature that makes it easier for users to connect with friends without switching screens.
Finally, the updated app adds a quick camera button in the chat window to let users capture and share images instantly and even go to recent camera roll on iPhones.
WhatsApp is currently the largest instant messaging service with over 800 million active users. By adding voice-calling to the app, the Facebook-owned company is on the verge of threatening carriers of adversely impacting their network call charges, much like it did with SMS.