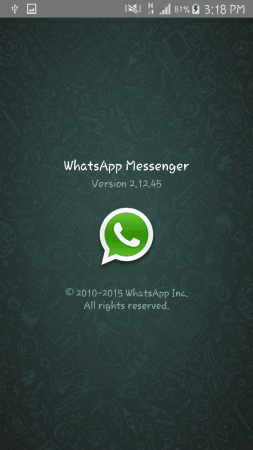 WhatsApp is making news quite often than lot, mainly for its frequent updates. Now, along with an updated app, the Facebook-owned company has achieved a new milestone. In a brief post on Facebook, WhatsApp CEO and co-founder Jan Koum revealed that his popular cross-platform instant messaging app has more than 800 million monthly active users (MAU).
This is the first update since January, when WhatsApp surpassed 700 million monthly active users.
In a short span of just 3 months, WhatsApp added more than 100 million MAUs. If the trend continues at same speed, WhatsApp is likely to cross the anticipated 1 billion mark by the end of this year. On an average, WhatsApp is adding some 1 million users every day, which is incredible considering the fierce competition in the instant messaging arena.
WhatsApp's success is well-deserved. The developers working behind the massive messaging platform are constantly improving the overall user experience with new features rolled out in frequent app updates. Starting with the introduction of WhatsApp Web in late-January, WhatsApp has since added voice calling and Material Design UI. Now, the messaging app is being treated with Google Drive integration to allow users to backup and restore of conversations and photos.
Google Drive backup does not include videos, which was also suggested in a recent leak of translation string. Google Drive integration is currently available for Android users in an APK format in version 2.12.45. The WhatsApp's official website, where new updates are first available, has listed version 2.12.44.
How to update WhatsApp to version 2.12.45?
Since the update is not available as an OTA download, users must need to follow a few extra steps to get the unreleased features, in this case the Google Drive integration. Follow the steps below to get the latest software on your Android smartphone.
· Download APK file for version 2.12.45 from APK Mirror on your PC
· Connect your Android smartphone to your PC using USB cable
· Navigate to the Downloads folder on your PC and find the WhatsApp APK file (19.7MB)
· Copy the file to your Android smartphone (Remember the location)
· Navigate to the APK file on your smartphone and install it
· Close all apps and launch WhatsApp on your phone
· To verify the latest version is installed, go to Settings > Help > About and verify the app's version to 2.12.45
After successfully installing the latest WhatsApp on your phone, go to Settings > Chat Settings > Chat Backup and a new option called Google Drive Settings will appear. Change the Backup frequency from off to daily/weekly/monthly. Choose the Gmail account where all your data should be backed up and keep the Backup chats option to Wi-Fi only to avoid any data overages.

If you are skeptical about the unusual updating route, just wait for WhatsApp to rollout the feature over-the-air so you can update the app directly from Play Store.
Related