WhatsApp finally rolled out one of the most exciting features to its billion-plus users, making conversations more fun and interactive. WhatsApp Stickers is available on Android and iOS-powered smartphones just in time for Diwali so users can get creative while wishing their friends, family, and peers.
If you haven't been able to send WhatsApp Stickers to your contacts, here's a quick guide to get you started. First things first, users must make sure they are running the latest version of WhatsApp to get the Stickers to work.
For iPhone users, make sure you are running version 2.18.101, if not head over to iTunes to quickly get the app updated. After successfully updating WhatsApp, users will be able to send stickers by tapping the new icon within the chat. Users can also download more stickers from third-party devs by pressing the "+" icon.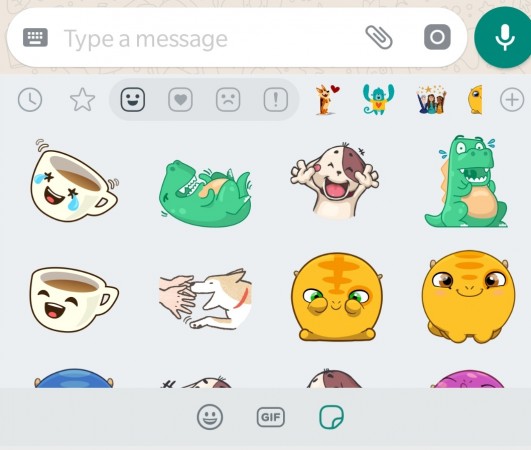 Moving on, Android users can also head to Google Play Store to get the updated version of the app to start using Stickers. However, if there's no update available on the Play Store, it might be available soon. It was the case with us, so we manually updated the Android version of WhatsApp by visiting the official website and downloading the APK file. Here's how you can do it too:
Download WhatsApp version 2.18.339 APK file from the official website on your phone
Tap the downloaded file and grant permissions to allow third-party installs on your Android phone
Click Install when prompted
Close WhatsApp from the background and launch the updated version of the app
To send a sticker, go to any chat and tap the smiley icon at the bottom left
At the bottom, you'll find a new stickers menu right next to GIF, tap on that
If you do not see any stickers, click on the "+" icon right below the voice recorder
Download the available packs and you can also choose from third-party stickers available on Play Store
Sending a sticker is as simple as tapping on one
By following these steps you can instantly get started with WhatsApp Stickers. Google Play Store and iTunes have plenty of stickers, which include Diwali and Game of Thrones themes as well. So if you've been waiting to get creative with your wishes this Diwali, get started right away.