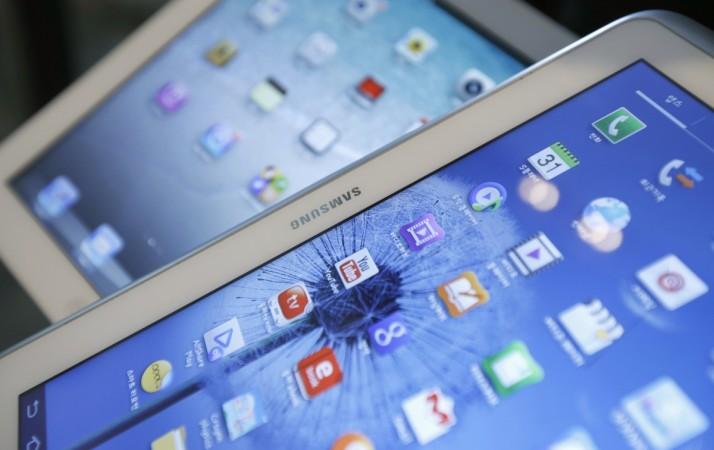 Tablets are apparently losing their charm among the Indian consumers prompting the device manufacturers to shift their focus to commercial users. Consumer demand for tablets in the country in the first quarter of this year was so miserable that the overall shipment of tablets suffered a sharp 18.6 percent annual decline, International Data Corporation (IDC) said in its latest report.
A total of 7,01,000 tablets were shipped to India in the January-March quarter, accounting for a marginal drop of 2.2 percent from 7,16,000 units in the previous quarter. However, the actual scenario comes to light when this year's first quarter shipment numbers are compared to the same from a year earlier.
According to IDC, tablet shipments in the consumer segment declined 28 percent in the first quarter of 2017 compared to the same period last year. It's the poor consumer demand, which pulled down the overall Indian tablet market during the period.
At a time when tablets didn't find consumers' love, the commercial segment – accounting for one-third of the total tablet shipments in India – kept the show running and somewhat counterbalanced the declining consumer shipments.
"Due to growing digital proliferation across industries, commercial segment especially large enterprise, government and education sectors, are expected to increase their demand for tablets," Celso Gomes, an associate market analyst at IDC India, said in a forward-looking statement.
Gomes also added that the trend will encourage tablet makers to be more aggressive in winning the market share in the commercial segment to sustain in India.
Market share of the top five tablet companies in India
Samsung managed to top the tablet market with 21.3 percent market share while its shipments increased 4 percent quarter-on-quarter in Q1 2017. Although the growth was mostly attributed to commercial shipments, the Galaxy J Max became the company's top selling model once again due to its popuarity among consumers.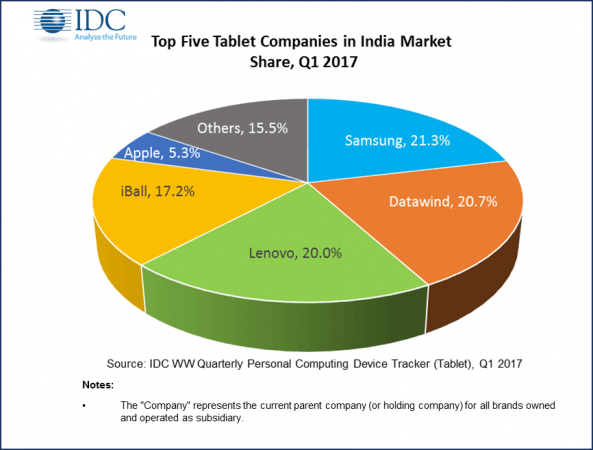 Samsung's lead, however, was not a healthy one as it was closely followed by Datawind and Lenovo with 20.7 percent and 20 percent market share, respectively. It's worth mentioning here that two-third of Lenovo's shipments during the three-month period went to commercial users.
The other two companies in the top five list were iBall and Apple with 17.2 percent and 5.3 percent market share, respectively.
GST implementation to impact shipments in Q2
Tablet shipments in the second quarter of 2017 will be negatively impacted by the GST implementation, which is expected to come into effect from July 1. Because of the massive tax reform, distribution channels for tablets will remain cautious on procuring new inventory, according to IDC.
"Apprehensions on lower tax credit and lack of complete clarity regarding the processes are the major concerns of retailers and city/state level distributors, which may lead to a limited inventory stocking, especially in the June 2017," Navkendar Singh , senior research manager at IDC India, said in a statement. "But impact is expected to be short spanned as channel would prepare themselves for the festive season in second half of Q3 2017."